Brownie was adopted by Eusebio Carrasco four years ago and since then the dog had been his inseparable companion. Unfortunately, the beloved pet passed away over the weekend and Carrasco decided he would honor Brownie with funeral services just as if the dog was a person.
Carrasco is the owner of Ceiba Funeral Home in Ceiba, Puerto Rico, and it was there where he held the funeral service for his loved pet.
"I don't know what happened. I said goodbye to him before going to church on Sunday, I told him 'come give daddy a kiss,' and [Brownie] licked my face. When I got back he was dead," Carrasco told Primera Hora.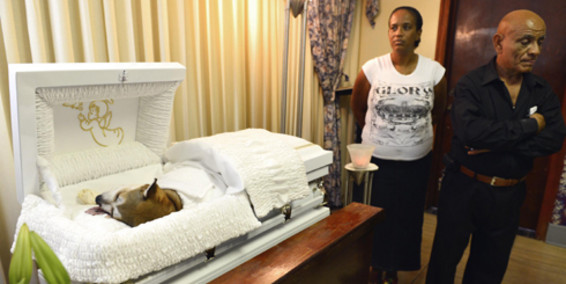 According to reports, Brownie died of natural causes, but nevertheless, Carrasco is distraught with the sudden loss of his best friend.
"My idea was to have him preserved and stuffed, but because he died on a Sunday I couldn't make the necessary arrangements," Carrasco said in between tears. "Instead, I decided to have a wake for him."
The funeral service was just like any other service available to humans. During the wake, Brownie had an open casket ceremony where animal lovers and their pets, neighbors, and other curious individuals came to pay their respects, take pictures, and phone videos of the dog. Memorial cards were also distributed to attendees and Brownie's body was buried in an improvised pet cemetery in the funeral home's front yard.
The memorial card and tombstone have the following message:
"You were my crying shoulder during difficult moments. You wiped my tears away whenever I cried. You loved to play and your paw's touch was always full of love. Because of these and many more reasons, you are, were, and always will be someone special to me."
Carrasco described Brownie as a jealous dog. The canine bit people in the past but with Carrasco the dog was always docile.
"He was my crying shoulder when my mom committed suicide this past September," said Carrasco. "Whenever Brownie saw me crying he would come over and lick my nose. I'm really heart broken now. Brownie even slept on my bed."
Because of Brownie's funeral service other local animal lovers are interested in holding services for their own pets when these cross the rainbow bridge. Carrasco plans on creating special pet services that can cost from $1,500 to $2,000.
"A lot of people have requested this service and I think this is just what people need to pay respects to their pets," said Carrasco. "I will build a special chapel and will order special caskets as well."
Carrasco also plans on starting his own animal rescue and sanctuary for Ceiba's abuse and abandoned pets.
(If you can't see the embedded video below you can watch a similar Spanish news report on YouTube.com)