————————————————————————————————————————————————————————————————————————————–
On this special birthday edition of SENIOR SATURDAY, the staff at Lollypop Farm, a wonderful part of the Humane Society of Greater Rochester in upstate New York, wants everyone to know about a special, sweet, 7-year-old girl named Lilla.
Lilla just celebrated her birthday, and while she received lots extra love — including a special cake and gifts at a party just for her — they're really hoping she can spend the next one in a forever home. You see, Lilla has been waiting for one for OVER A YEAR.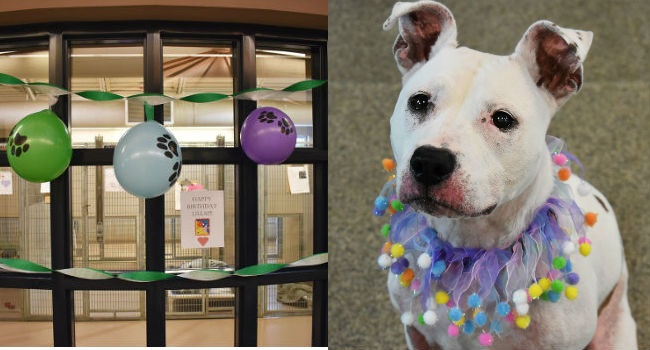 ————————————————————————————————————————————————————————————————————————————–
"Lilla is very important to us," says Kelly Wolfe, Manager of Corporate and Foundation Relations at Lollypop Farm, "and we are trying everything we can to find her a home. She has severe allergies and a special diet. She also needs to be the only pet — and so has a unique set of circumstances."
Throught a grant provided by the Grey Muzzle Organization, the folks at Lollypop Farm have been able to care for her and her adoption fee will be waived when the right adopter is found.
Lilla was surrendered by her owners because they were unable to give her the necessary care to keep her healthy. Her skin was so irritated, she was nearly all pink back then. They were unaware that her food allergies were making her sick (Lilla wishes she could eat everything!). Once in rescue, the medical staff was able to find a special food that Lilla not only loves, but it loves her back. She is looking gorgeous these days!
She's also a love bug. Lilla adores affection and attention. So much so that she doesn't want to share her human with another dog or cat. She really loves people, though! She knows tricks — sit, down, stay and (her personal favorite) fetch!
————————————————————————————————————————————————————————————————————————————–
She's 7 but spry and still runs and jumps like a pup.
She gets sad sometimes at the shelter, though, and shines when she goes for walks, plays outside and gets special cuddles from the staff and volunteers. She misses being part of a family. Maybe she can join yours.
For more information about Lilla's needs, or if you're interested in adoption, call 585-223-1330 or email [email protected]