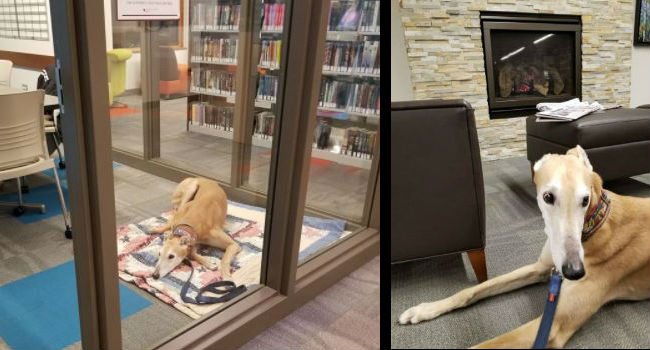 ————————————————————————————————————————————————————————————————————————————–
Sting had a long face this week that got him attention on social media.
But, his owner points out, the 10-year-old greyhound always has a long face — he can't help it!
Sting was on a visit to the Ramsey County Library in White Bear Lake, MN, a twice-weekly stop for the retired racer that's part of the library's Paws to Read program, which encourages literacy by inviting young children to come in and read to dogs.
It's been a regular gig for a couple of years.
But this week, for whatever reason, no one showed up, and Sting's owner, John Muellner, posted about it on Facebook.
"Unfortunately nobody signed up to read to Sting at the White Bear Lake library tonight," he wrote, alongside a few pics of the greyhound looking sullen. "If you know of a 4 to 8yr old who would like to read to a dog. Please contact the White Bear Lake library by phone or their website about the Paws to Read program Sting will be there Feb 21st 6:30 – 7:30."
Since then, the library's phone hasn't stopped ringing. And it's all because of Sting's lovely "sad" face.
"People are asking if we could hold the phone to Sting's ear so they could read to him," Ann Wahlstrom, children's librarian at the Ramsey County Library, told TODAY. "The whole staff of a Petco in California called to say they love Sting. It's just amazing, the outpouring."
The dog is booked through April, as are the other therapy dogs who participate in the reading program.
Wahlstrom is delighted.
"It's meant to be a fun environment," Wahlstrom said. "To give kids a fun, nonthreatening place where they can practice their reading skills to a dog…. We love promoting the joy of reading," she said. "The joy of reading to dogs."
Sting's participation lasts about an hour. Three children sign up; each reads to him for 20 minutes.
Muellner, 56, says Sting's "easygoing" nature is ideal for a therapy dog. In fact, Sting works at a local children's hospital, as well.
"Nothing scares him; nothing bothers him," he said. "Not even squirrels."
That said, Muellner assured TODAY that Sting wasn't really upset that no one showed at the library. The "sad" face that made him go viral is just that: his face.
"It's his signature look," he said. "It's just his look."