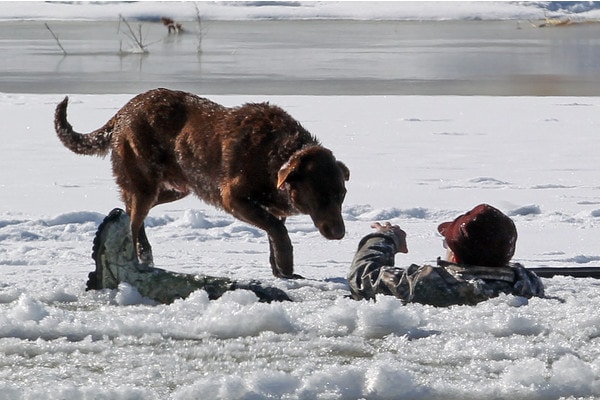 A 60-year-old man was duck hunting with his dog on Tuesday when he fell through the ice. As the man waited in freezing water for 30 minutes until rescue crews could get him out his dog never left his side, keeping watch over his distressed owner.
The man was hunting near Grand Junction, Colorado when he went onto the ice after his dog that was retrieving a duck or a goose. When the dog fell in the man went onto the ice to save his dog. He was able to bring his dog to safety but then he plunged into the icy Colorado River himself. Fellow hunters saw the incident and quickly called 911.
Firefighters arrived on the scene quickly but needed to figure out how to safely pull the man from the ice. Meanwhile the man's dog refused to leave his side. It took a total of 30 minutes before the man was rescued, the whole time the dog stayed close pacing and worrying about its owner. Meanwhile the man was trying to desperately keep his dog away from the weak ice the best he could.
Firefighters swam out to the man and brought him, along with his dog, to land safely. The man was able to walk from the scene but was taken to the hospital to be treated for hypothermia.