Delilah, a 3 pound Maltese dog was saved from being crushed in a garbage compactor when an animal control officer from Tri-Cities, Wash., rescued her from a dumpster.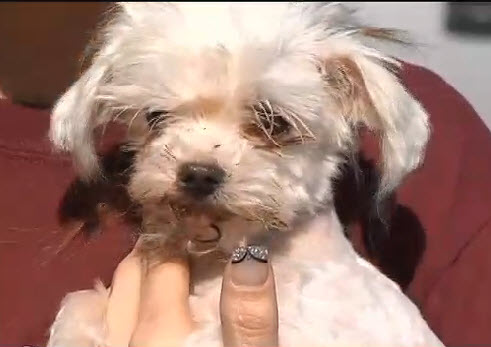 On March 20, 2014, animal control received a call from a maintenance worker reporting a small dog found inside one of their garbage pails. When the responding officer arrived, he found a white, dirty, matted dog inside a 6 foot high container.
Someone had to have place the canine inside the dumpster as the canister was too tall for the dog to have jumped in there by herself. Fortunately, the "garbage" dog had an implanted microchip and the registered owners were contacted.
"We tracked the owner information, and she indicated that about a year ago she had moved out of town and rehomed her two Maltese, this one and another one by the name of Stella, to two different gals," Animal Control Director Angela Zilar told KULR 8 News.  "She had the information of who they were [and] it just so happens that the same person who had taken Delilah also worked at the location where the dog was dumped."
Delilah's most recent owner was contacted and she stated she had given the dog away about a month ago. However, her own daughter declared that the discarded dog had been at her mother's home just the day before.
Animal control and police officers are now working together to file charges against the irresponsible dog owner who dumped the tiny pet.
As for Delilah, she will soon be reunited with her sister Stella. The family Stella was rehomed to a year ago has said they would like to rescue Delilah and welcome her to their home.