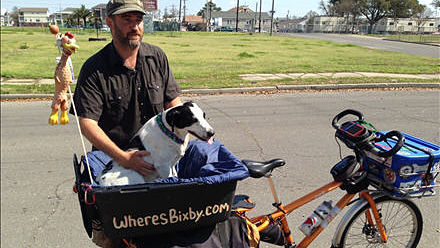 Michael Minnick has been biking around the United States since September with his dog Bixby along for the ride. During their travels the pair visits animal shelters in various cities to raise awareness for pet adoption.
Minnick adopted Bixby from a shelter in Texas. The two have been on an adventure since September when Minnick quit his job to travel.
"I've really been taking my time and kind of seeing the country at a whopping nine miles an hour with my best friend here and it would not be the same trip without my dog, for sure," said Minnick.
Minnick gets by on his savings and help from generous people he meets along the way. He and Bixby are trying to give back along the way by raising awareness about all the shelter dogs that need good homes.
"Shelters unfortunately are completely overrun and that's not a good outcome for the dogs that are there," said Minnick. "It's really important, if you can have a dog and you can take care of a dog, the dog will give back to you ten-fold."
In the last 7 months, the duo has biked over 5,000 miles and been to 21 states. Their adventures can be followed at www.wheresbixby.com or at their Facebook page.