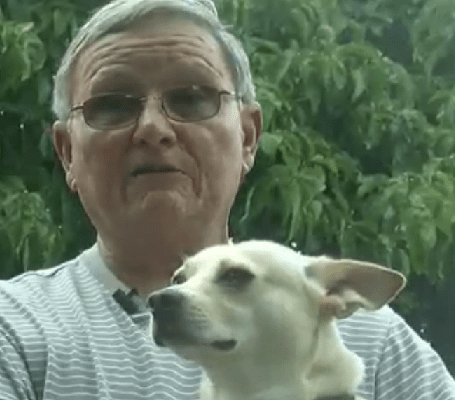 When a North Carolina man found two coyotes ready to pounce on his dog, he didn't have a lot of time to think. Gary Roberts acted fast and scared the coyotes away before they could harm his dog.
It was early Sunday morning when Roberts spotted the coyotes. His dog Otto was also out in the yard at the time.
"I thought they were dogs at first," said Roberts. "But I got a good look at them. They were coyotes, and they were huge, and they were coming down the road towards my dog."
The Coyotes had dropped their heads and were looking to attack Otto. Roberts quickly went into action and started yelling and trying to scare them away. One of the Coyotes backed down, but one kept coming for Otto.
"The other one started chasing my dog into the yard, and my dog came by me, and the coyotes started running toward me, and he got within about ten feet of me," said Roberts.
Roberts continued to yell and try to scare the coyote away and protect Otto. Luckily the second coyote also backed down and both Roberts and Otto were safe.
Roberts is shaken up by the ordeal, as it's rare to see a coyote where he lives. Roberts has lived in Bladen County, North Carolina for 63 years and he's never seen one before.
"We were both shaken for a while after it happened because we're not used to having any kind of animal like that coming into the yard in attack mode," said Roberts.
Roberts wants to make others aware of the danger and make sure they keep close eyes on both their pets and children when they are out in the yard. He realizes that he is lucky the coyotes did back down.