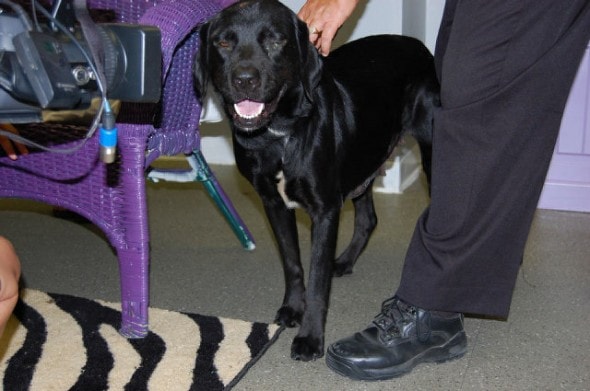 A South Carolina man who admitted to killing two dogs received the maximum sentence on Tuesday and will spend 10 years in jail for his crimes.
On July 2nd  a black Lab was found with her mouth and legs bound after being tossed into a canal. That dog was luckily was rescued by fishermen who got her the help she needed. She was treated and has been staying at the St. Francis Animal Center where she is doing well and has been given the name Dara.
Two other dogs weren't as lucky. Three days later they were found dead in the canal after being taped in the same manner as Dara had been. They had been deceased for several days.  Several tips led investigators to Bobby Joe McConnell  who was arrested and charged. McConnell admitted his involvement in the dogs' mistreatment and deaths. The two dogs belonged to his mother-in-law and his daughter. According to his attorney McConnell had been taking Xanax, Percocet and drinking alcohol when he committed the crimes.
McConnell was charged with two counts of ill treatment of animals and pleaded guilty to both charges. Judge Larry Hyman sentenced McConnell on Monday and gave McConnell the maximum sentence for each charge and described McConnell's actions as "the product of an evil heart." McConnell will serve 5 years on each charge. He must also pay $10,000 in fines, half of which will go to the St. Francis Animal Center. In addition McConnell has been ordered to pay the over $1,800 St. Francis Animal Shelter has spent on Dara's care.