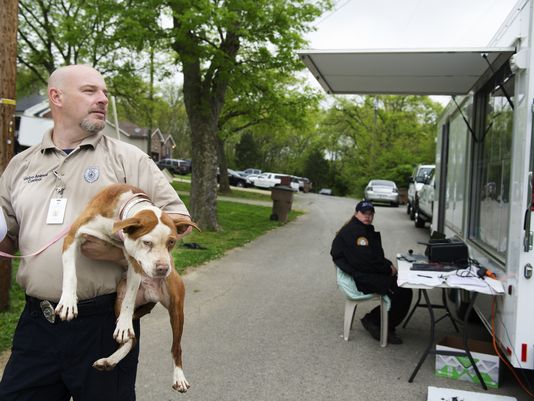 A man from Bordeaux, Tennessee who is facing 27 separate charges of felony animal fighting has surrendered his 27 pit bulls and one bulldog to the city.
Last month, Michael Davis was charged with 27 counts of felony animal fighting.  Metro police were at his home on Pewitt Road to remove 27 pit bulls and one bulldog on Thursday. The 27 felony charges have been passed up to the Davidson County grand jury for a hearing.
Davis has signed papers forfeiting the dogs, and in exchange the prosecutors have dropped all of the charges Davis' wife, Brandy Harper was facing.
Brandy Harper had been charged with a single count of felony animal fighting, and three counts of misdemeanor animal cruelty.
Metro Animal Care and Control is caring for all of the surrendered dogs at this time.  They are being housed at an off-site location owned by the city.  The dogs will be evaluated and treated, and their rehabilitation, if possible, will begin after Davis' trial is complete and the dogs are no longer considered evidence in an ongoing investigation.  Unfortunately, one of the dogs managed to get out of it's kennel and started fighting immediately with the other dogs, and had to be put down.
Davis had already been in police custody before the dog fighting allegations were made.  He was being held on a cocaine trafficking charge, also a felony, when he was hit with the animal fighting charges.
This case has got the Health Department for the city and county requesting an investigation into other complaints of animal fighting handled by Animal Control.  This is because there are two separate incidents where incomplete documentation by police responding to dog fighting complaints by neighbors, once in 2010, and once in 2013.