Petri, born to a street dog in Athens, Greece, knew nothing but a life of hardship.  At only three months old, his body was furless and becoming covered in crust, the result of being devoured by mange.  But after another three months, he was like a new dog, and loving life in his new home.
Petri was found on a mountain near Athens.  In addition to mange, he was suffering from malnutrition and ehrlichia, a tick-borne illness with a wide variety of symptoms, including anemia, bruising, edema, loss of appetite, lethargy, joint pain, and shortness of breath.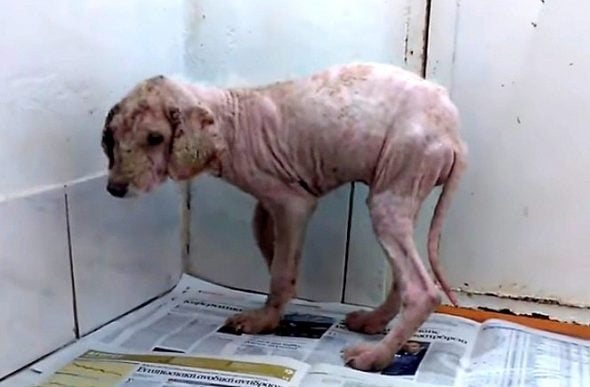 He was taken in by SPAZ, a Greek rescue organization.  While many dogs and cats are subject to a miserable life on the streets, often exacerbated by cruel humans who enjoy their suffering, there are many fantastically kind people who go out of their way to love and care for these unfortunate creatures.
Petri spent a month at the clinic receiving treatment for his ailments, but he remained sad and unsure all the time.  What he needed was to live in a home, being cared for by a family.  He was placed in an open crate so he could get used to his new surroundings while feeling protected.
Food and water was placed outside the crate, and within a couple of days he felt brave enough to venture outside his den and explore.  Before long, he was acting like a regular puppy, chomping on toys.
His fur was growing in nicely, and the next step in his recovery was going back outside.  Within a couple of months, he was happily running and playing outside with other dogs.  And then he was adopted!
If you would like to help SPAZ continue to save as many street animals as possible, please click here to donate.