Lou Terrell, a former mayor of Del Mar, California, tragically but heroically gave his life to save that of his dog's, who had run into the path of an oncoming train while the pair were out on a walk.
Terrell, 75, was walking with his dog off-leash on a bluff near some tracks, as they had frequently done. An Amtrak train began heading their way, and the engineer blasted the horn to warn them away.
But the loud noise startled the dog, and instead of running away from the sound, he ran onto the tracks. Terrell rushed to get his dog out of harm's way and was struck. He died on the scene.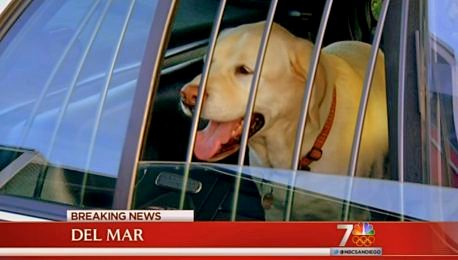 "He's done this probably a million times and for the train to come by like that it's pretty tragic and we're all kind of shocked because we've lived here for 20 years and never seen anything like this," said Nick Ovanessoff, who lives nearby.
The dog was not injured, and was taken by a sheriff's deputy to Terrell's family.
"Anyone with a dog would have done this and he tried to save his dog and it was just something that had gone terribly wrong," witness Jeff Jonas concluded.