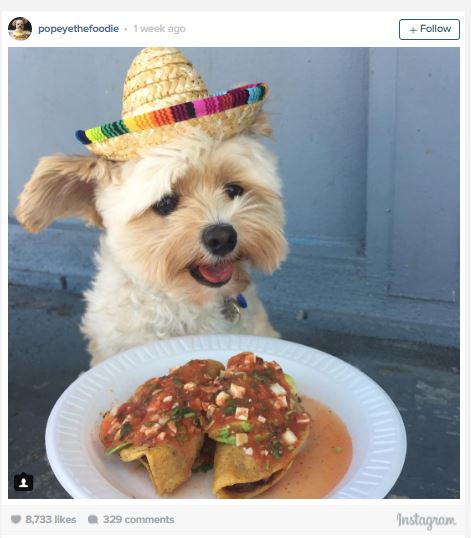 In the age of social media, few traits are more valuable in a pet than an uncanny ability to sit still and pose while mere inches from mountains of delicious food.
This is little Popeye's super power. And his owner, restaurateur Ivy Diep, has turned this little rescue dog's gift into one she gives to his more than 98,000 Instagram followers on a regular basis.
Diep told ABC News that the idea of showcasing pet-friendly restaurants was the natural evolution of the "Instagram dates" she'd have with friends where they'd go try different places and take pictures ofthe food.
"I would bring Popeye to any of the pet-friendly places, and we realized how good he was around food. He would sit still for photos."
Popeye often dresses up in themes while dining out, wearing hats, dress shirts, sweater vests and even glasses.
Although Diep says she'll give him nibbles of anything that's dog-safe, she generally carries a bag of his favorite treats with her. "He's usually not really into the food anyway."