The Dream Team Angels are the ladies who were able to save Mandy, the dog that had been held over in the adoption area of the Riverside SPCA for almost a month longer than permitted because the staff loved her so much and didn't want her to be put down.  Comprised of four women, Alice Chow, Kari Lee, Suzanna Ruiz, and Lori Small, each with a passion to help dogs, they came together when they saw a local medical and to-be-euthanized listing of pit bulls and shelter dogs in their area.  With no rescues stepping forward to save them, the women decided to take action themselves.
………………………………………………………………………………………………………………………………………………………………………………………………………………………………………………………………………………………….
With their current mission being to rescue dogs that are in need of medical support or treatments or those who are in urgent need of rescuing due to placement on the euthanize list, they also actively work toward educating the public and with their participation in spay and neuter programs. All of the dogs they rescue are placed into foster care and through their incorporation of social media into their messaging, people have been approaching them about fostering or adopting specific dogs in need.
They had been fortunate to find placements for all their fosters, although at times it can take a bit longer to find the best home for a dog with special needs, but through coordinated efforts with organizations like Foster Me, with a special nod of thanks to founder Laura Milham, they have been able to connect with great people who are, as they say, "key component of the rescue puzzle."
Dream Team Angels Rescue focuses their rescue efforts on dogs from the San Bernardino City and Riverside Animal Shelters in the inland empire of Southern California. Their team members are also volunteers at both shelters, so they are able to stay current up on the dogs at both locations. These amazing volunteers never rest. DTAR has had an enormously high success rate because every day they have feet on the ground going into these shelters. In fact, they knew about Mandy before her story went viral.
They have also found great loyalty in their DTAR followers and feel fortunate to have a great network following the rescues and saves of each dog. They always alert followers of rescues and have many of those people stepping up quickly to help. Such was the case of Mandy and once the story went viral, both DTAR and Foster Me received were approached by a great number of people either to foster or adopt her.   With Mandy, as with all their rescues, they have a thorough adoption application (references included), including home checks.  That gives them the best opportunity to find an ideal match for both the family and the dog.  They also have all the bully breeds evaluated by their trainer, Yasin Ali of EmpireK9 Training, to assure they are ready to be homed.  For them, it is all about making the perfect match.
Presently they are looking for homes for four special dogs.
Bruce Wayne #A1264429 another Riverside SPCA survivor that the folks at the shelter asked Dream Team Angels to intercede on his behalf on the day he was to be put to sleep.  The puppy was in so much pain and the shelter didn't want to see him put down.  Bruce was in terrible shape, having two luxated hips that had been popped out and healed in that position.  He needed surgery right away and Dr. Chris Bory at Pet Time Vet, did surgery on him last week, and came to the conclusion this horrible act had been done on purpose and then left to suffer.  He is healing and looking for a forever home where he can be loved and cherished for the beautiful boy he is.
Megan#A126643 is a sweet puppy who has Strangles which is quite rare for dogs to contract as it is a horse disease. She is ready for someone to love her and will be happy to love back.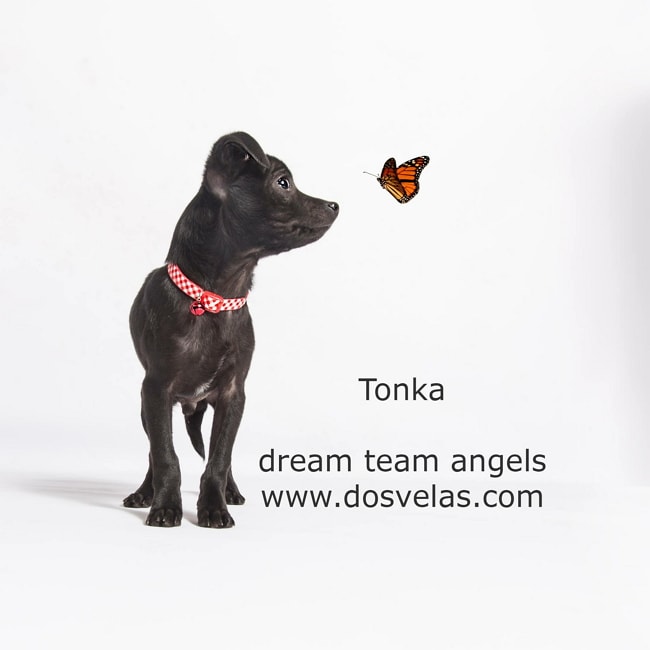 Adorable two-month old Tonka #A1265111, is a 4lbs Chihuahua who is blind.  As another Riverside rescue, Tonka would love a family to snuggle and play with.
Pretty Phoebe#A490484 is recovering from having double eye surgery which had been performed by the wonderful Dr. Bishay at Advance Pet Care. This lovely girl is also in need of a forever home and will be a devoted companion.
Recently, two of the DTAR dogs, Lexi and Molly, both which needed to have their eyes removed due to trauma, were adopted into amazing homes.
In asking what the single most important thing people should know about DTAR, Kari responded with, "DTAR rescues the medical dogs. We appreciate and rely solely on donations to help our dogs. As we rescue the dogs nobody else wants. We give them a chance nobody else will. Because we are the Dream Team! Teamwork makes the doggie dream work!"  Their single wish? That all shelters could get the help at the level we provide.
A special thank you to these fantastic women, Alice, Kari, Suzanna, Lori, and all of their volunteers for all of their devotion, care, and dedication who make up the Dream Team Angels.  Amazing work like this saves countless lives.
Dream Team Angels Rescue Mission:
Dream Team Angel's Rescue is a group of women dedicated to the rescue, rehabilitation and placement of homeless animals, many of whom are rescued at the very last moment from euthanasia at the city shelters. Many of whom have medical needs.  We provide safe haven to all those who find their way to us through whatever circumstance, whether abandoned, injured or neglected. No matter the breed, health or age, we believe that all should live secure, healthy lives. We work tirelessly in our attempts to find the right homes with people who will love their pets for a lifetime.  We strive to find the most amazing home for each dog by performing homechecks and getting to know our adopters. We stay in touch with our adopters love to get updates and pictures. 
Dream Team relies solely on a community of pawsome donors, volunteers, networkers, transporters, foster and adopters. We receive no public funding and count on the generosity of fellow animal lovers to help defray our costs, which include vet bills and other medical expenses for the many animals who come to us sick or in need of special care, as well as food, supplies and other items needed for the safety and comfort of our rescues.  Dream Team Angel's is a small not for profit rescue all donations are greatly appreciated.  You may contribute to our rescue efforts via Paypal, [email protected].
If you wish to foster or adopt from DTAR please contact via phone at  (360) 688-8884 or email, [email protected]. *Teamwork makes the doggie dream work!*