An emaciated and injured 1-year-old, pit bull sought shelter at Union Hall in River Rouge, Mich., yesterday, Dec. 18, 2013. He wanted a warm place to rest and to regain some energy. Lucky for him, the bait dog stumbled upon good-hearted individuals, who instead of dismissing him back out on the cold streets due to his dirty and unappealing appearance, called authorities instead and got him rescued.
The dog has been named Tiny Tim and he is now under the care of veterinarians at Emergency Veterinary Hospital in Ann Arbor, Mich.
According to Providing for Paws, the organization looking after Tiny Tim's medical care, when Union Hall workers found the injured dog they contacted River Rouge Shelter. However, the Animal Control Office was not on duty, but volunteer Patricia Kelly-Trevino with Dogpatch Primitives, called on a fellow volunteer, identified only as Dave, to go check on the dog. The volunteer came back with a very emaciated dog that had a number of wounds all over his head, ears, neck and legs.
"[Union Hall] was having a function yesterday. They were cooking so it smelled real good," said Kelly-Trevino. "Tiny Tim managed to get in the door when an elderly man entered. [The dog] went down about four steps and laid on the landing. The man was afraid of him because he was a pit bull, but when they realized he was very sick and injured they called us."
Kelly-Trevino assured the workers the injured dog did not want to harm them. The pet was probably just looking for food.
When Tiny Tim was picked up his rescuers realized the innocent pet had too many wounds on his body for him to be just a stray. The dog was more than likely used as a bait dog.
Pictures were posted on social media sites and volunteers asked the community to help save Tiny Tim. His images went viral and Providing for Paws stepped up to care for him.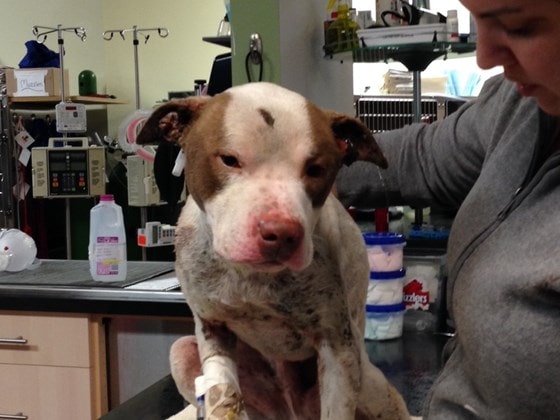 "[Tiny Tim] was obviously torn up by another dog, his ears getting the worst part of the attack," said Providing for Paws.
Among the many puncture wounds the bait dog has throughout his body, his ears showed and advance infection. Tiny Tim was also very anemic, dehydrated, and limping upon arrival. Veterinarians fear he has Lepto.
"He has numerous bite wounds, his ears being the worst, with one being torn so badly the cartilage is exposed," said Providing for Paws. "[The dog] will have to be more stable before surgery can be done on his ears."
Providing for Paws has started a YouCaring page where donations are being collected to cover Tiny Tim's medical costs. If you have it in your heart and can afford to make a financial donation, please consider helping Tiny Tim.
A day has passed since the bait dog was rescued and today he is in stable condition. Tiny Tim ate some food this morning and is showing signs of improvement. If his health continues to improve he will be anesthetized this afternoon and an extensive wound evaluation will be done.
"He is a lover, not a fighter," said Providing for Paws. "Yet someone used him for such. Please help us get Tiny Tim the help he needs to heal."
For more information on Tiny Tim, follow his health updates here, on Providing for Paws Facebook page or Dogpatch Primitives Facebook page.