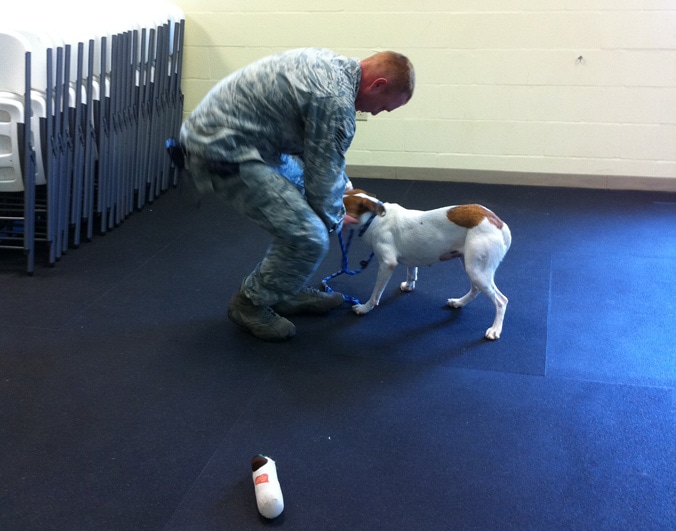 Military working dog trainers are volunteering their time to help dogs at the SPCA Tampa Bay. Using their skills they will help address behavioral problems some of the dogs have and make them more adoptable.
Military working dog trainers stationed at MacDill Air Force base are volunteering to work with the dogs at the SPCA Tampa Bay several hours every other week. The dogs will get help in basic obedience which will make them more adoptable.
"Part of the reason we know dogs in particular are surrendered to a shelter is for behavioral reasons," said Meagan Motmeny, the shelter's Behavior Department manager.
Staff Sergeant Hutto and the other handlers are used to having a lot more time training their military working dogs but they hope the time they spend with the shelter dogs will  be beneficial.
"They have little training, our dogs get anywhere from three to six months of training before they get sent to our base so we have to approach it a lot differently," said Staff Sergeant Hutto.
Staff Sergeant Hutto knows firsthand how important training can be. He credits his K9 partner Eddie with saving his life in Afghanistan by alerting to an explosive device that was only inches away from his foot. This lifesaving effort has earned Eddie a nomination in this year's American Hero Dog of the Year Award.
While the shelter dogs won't need the extensive training that Eddie has, Hutto hopes that the basic obedience they get will help them find families. Hutto and the others volunteering with him can work with up to three dogs an hour, helping them learn basic obedience and commands. His efforts are already seeing results.
"One of the dogs they spent about an hour's worth of training time with was adopted within a couple hours after they left," said Motmeny. "The most recent report was that he understands sit and he understood down."