This is not the first time Miranda Lambert has been featured in a story on our site, and with this animal lover's heart of gold, it probably won't be the last.  Part of this story isn't new – that she opened a no-kill animal shelter – but her foundation also recently donated $175,000 to animal shelters across the country.
"Nothing brings me more joy than seeing a person adopt a shelter dog," Lambert told Rolling Stone Country last year. "The looks on both of their faces — the dog and the person — when you see that match happen, it just brings me so much joy."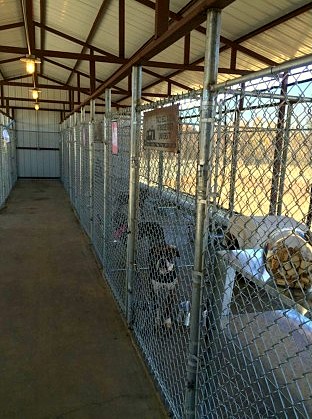 Last November, the country music star opened a five-acre animal shelter called Redemption Ranch.  (I just found out about it, and I'm sure this is news to some of you, too.)  Her MuttNation Foundation  took over the Tishomingo, Oklahoma shelter and revitalized it.  Now dubbed Redemption Ranch, it can claim the no-kill status, which is a 180 from where it was a couple of years ago – barbarically gassing dogs to death.  There are much larger kennels, better fencing, a nursery, and an intensive care unit.
Lambert and her mom, Bev, founded MuttNation in 2007 to raise money for medical care, shelter, and adoption of animals worldwide.  Since it was launched, over $1.5 million has been raised for animals' treatments, food, puppy mill rescues, service dog training, education programs, spay and neuter initiatives, and legislative changes.
"What I like about it is that my mom and I have control. It's a very small board. It's five girls and we know where every dime goes," she explained.
The singer has a menagerie of rescue animals herself – dogs, cats, pigs, horses, mini horses, and chickens.  She has found a number of abandoned animals, and has helped them (and many others) get homes.
"When an animal finds a forever home, it's not just life-changing for the animal, but for the family that gets to receive the unconditional love that animals give," Lambert said. "It means so much to me to be a part of that process."
In January, MuttNation Foundation was able to donate $175,000 as part of its annual Mutts Across America:  50 States/50 Shelters campaign.  Shelters are selected based on criteria like high adoption rates, volunteerism, strong community presence, spay/neuter programs, and monetary responsibility.
"We feel so privileged to be able to continue supporting these shelters that truly stand out," Bev Lambert said. "We salute all of the individuals who follow their passion to help animals and defend those who cannot defend themselves."
If you would like to donate to MuttNation Foundation, please click here.