A Dachshund named Chip from Phoenix, Ariz., spent the night with its head stuck in a cinder-block wall, after it attempted to run away from home. His owner had no idea what the dog had been up to, and only found out about the dog's entrapment when area firefighters arrived at the residence to free the small pet.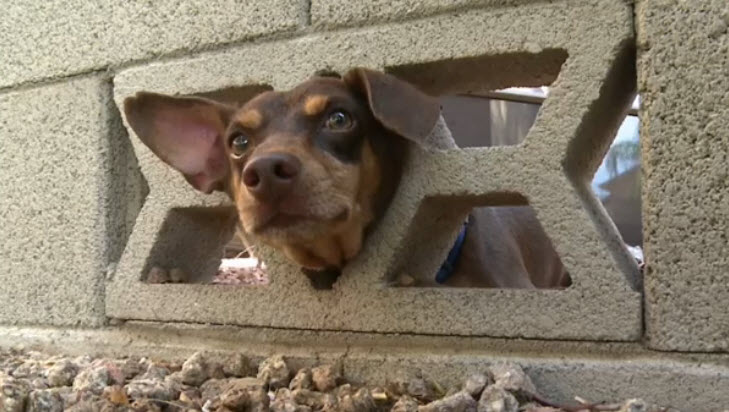 On the morning of July 30, 2014, one of Chip's neighbors discovered him stuck in the wall. The concerned individual called 12 News and reported the pet in distressed. Daniel Clark, a photojournalist for the station, called authorities and drove to the location to check on the dog.
When Clark arrived, he found a mischievous dog stuck in the wall. The pet seemed a bit tired but in overall good health.
Chip's owner said the dog had tried to run away before, but the canine had never gotten in so much trouble as now.
Phoenix firefighter, Phoenix police, Arizona Humane Society and Tolleson Fire Department all assisted in Chips' safe removal from the wall. Hero rescuers chipped away at the wall, until Chip was able to pull his head out of the cinder-block.
The small dog suffered no injuries from the ordeal, but his owner should keep a closer eye on the naughty canine, especially since it is know Chip likes to run away.