My name is Sharyn Arthur, and my 8 month old Irish Wolfhound, Jakob, saved my life.
If it hadn't been for him, I'm sure I would be dead. I was riding our ATV/quad on our property when my steering locked.  I went down a steep 75′ ravine and crashed hard. I'm 64 years old and the hit did a lot of damage.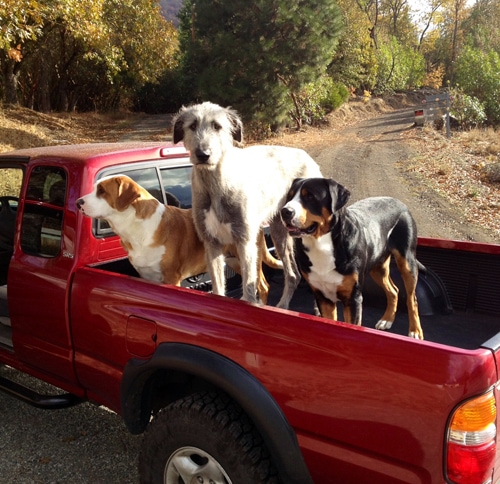 The eventual diagnosis consisted of the following: broken collarbone, broken ribs, broken backbone, punctured lung, blood in lungs, severed artery in arm, and whatever wasn't bruised was stitched. It was all bad.
Jakob saw me and ran up to the house to wake up my partner Dave. He would not leave Dave alone, insisting that he follow him. When he did, Jakob led him to me, which is a good thing because I was bleeding out. Dave called the paramedics, who arrived just in time. Later, they would tell me that they were surprised I survived.
I spent a very long week in the hospital. When I got home Jakob was there to greet me. He was incredibly tender with me. He smelled all of my wounds then ever so gently laid his head in my lap.
This is going to be a long long painful recovery, but I can say without hesitation that the only reason I am alive is because of my dog Jakob.