Nala was living as a stray in a ditch in LA. She was lonely, scared and needed help. Hope for Paws was there for her, and ultimately changed her life from one of scavenging and solitude to one of comfort and love; she went from stray dog to valued family member.

"She was definitely abused (by a man), she whimpers and runs away at the sound of a man's voice," a Facebook post read.
A woman around the neighborhood would feed Nala, but she was too nervous to eat, and would wait until she was alone to scarf down her food. Sara Cozolino was called, because Eldad Hagar and his teams believed she could help the sweet dog overcome her fears. Melissa Schwartz was also called in to assist.
Nala was trepidatious, but willing to trust. She allowed Eldad to pet and leash her. After spending a few moments getting hugged, Nala was ready to take food right from her rescuers' hands. After about two hours, Sara, Melissa and Eldad got her out of the ditch.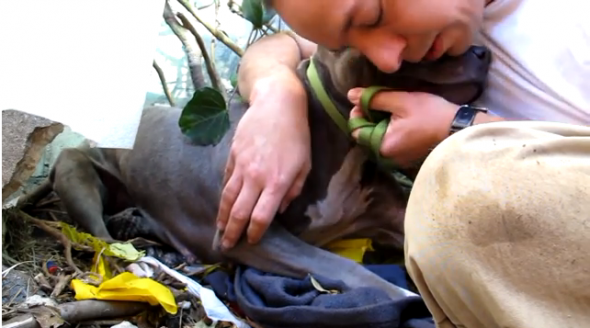 With a little bit of love and patience, it was discovered that Nala loves children and other dogs, and was not permanently traumatized by men. She was living in a foster home, and Hope for Paws was searching for a permanent home for her, but shortly after her video was posted, her foster dad decided to keep her.