People might think that dogs who spend years chained up and with limited human contact are aggressive dogs. The say these forgotten dogs will never be able to join a home, but most of the times, these dogs that have starved for love, want nothing more than to be part of a family.
Meet Rusty Diamond, a dog from Phoenix, Arizona, who spent between 10 to 15 years chained up alone in yard. All he did was watch the world pass by and bark at anyone or anything that approached him.
How would Rusty know love when he had never felt it? Vimeo user Jared Piper posted a video documenting how Rusty was rescued and given a chance to know love. (You can watch the video here.)
On May 11, 2015, Rusty left behind the cruel life he had known. He was filthy, infested with fleas, hungry, had tumors on his body and wounds on his ears from flies and fleas. On that day, the lonely dog experienced his first walk, his first bath and his first restful night sleep.
Piper had seen Rusty in the yard many times, he knew the life the dog had was no life for any dog and that's why he decided to do something and change it. For weeks, the rescuer approached the fence and sat in front of it talking to the dog even though the dog barked and growled back. Piper patiently waited and gained Rusty's trust.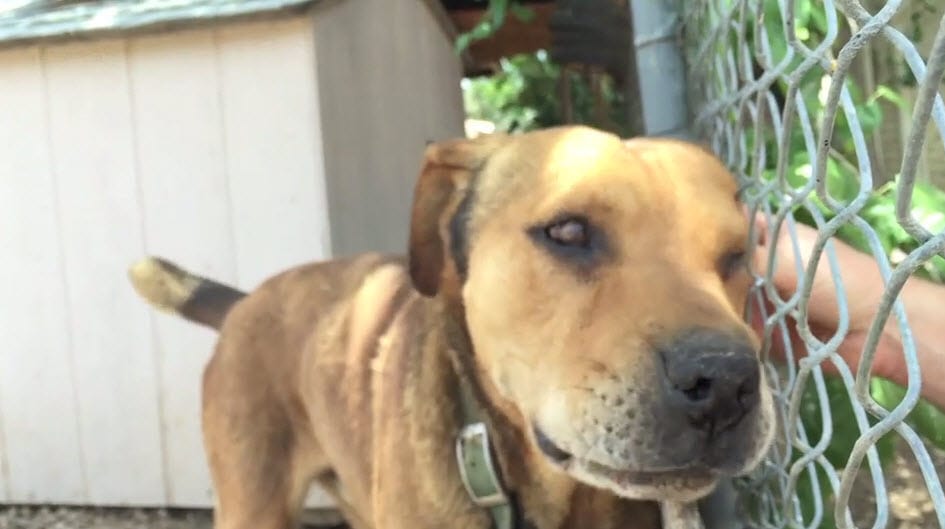 One day, while Piper bonded with his four-legged friend, Rusty's true owner came out of the home.
"I told her that he needed medical attention, and explained that leaving a dog chained up outside 24/7 is animal cruelty," said Piper in the video. "[The owner] laughed and told me [Rusty] had been chained up for 10-15 years. I told her I wasn't leaving without the dog."
Piper's act of kindness and willingness to speak up for the voiceless got Rusty rescued. A few minutes later the pet owner handed Rusty over and the dog was free. His new happy life was about to start.
Piper couldn't adopt Rusty himself, but he sure got him the perfect forever home where the dog is surrounded by love from his human parents and fur-siblings.
Watch the video to get Rusty's full amazing rescue story.