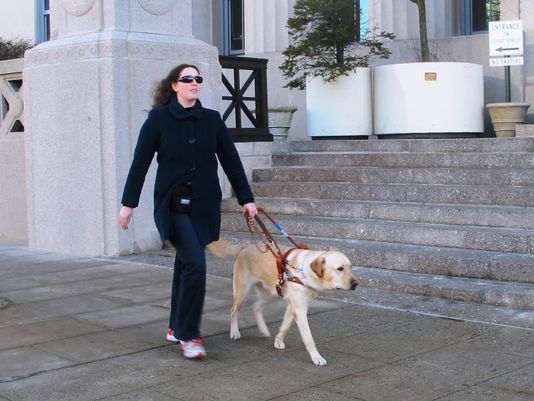 Guiding Eyes for the Blind is a dog training school specializing in the training of puppies and dogs for use as guide, therapy and service dogs.  They are currently seeking individuals willing to assist in the initial stages of a puppy's life, getting them trained and ready to become fully certified guide dogs.
Right now, the immediate need is in the Dutchess, New York community.  They will be looking for more people over a greater area as time goes on, and things for Guiding Eyes expand.
They want people willing to take puppies at about eight-weeks-old, to be placed in open homes for about 14 to 16 months.  After that time, they would be sent off to begin official training as guide dogs.
"After completing a few classes I was given a beautiful, very playful, black Labrador named Louie," said Rachel Stein of East Fishkill.  "I love learning the techniques for teaching Louie new skills and watching him succeed – he's so smart."
Full support is given to those volunteering including training classes and free vet care.  Those wishing to can even be included in the dog's graduation from training school.  Graduations usually happen about six months after being returned to Guiding Eyes, and volunteers can even meet the dog's new partners.
The next group of orientations will start the 22nd of July, and also the 5th and 19th of August.  They will go from 6-8pm at the Guiding Eyes Canine Development Center in Patterson.
For more information, you can contact Guiding Eyes directly at their Patterson location at 361 Route 164, or talk to Kate Schroer-Shepord at the center by calling 845-230-6436 or emailing her at [email protected].  If you are outside the immediate area but are still interested in helping out, there is also a toll free number, 1-866-432-5227 and there is always the website, www.guidingeyes.org/volunteer/puppy-raising.