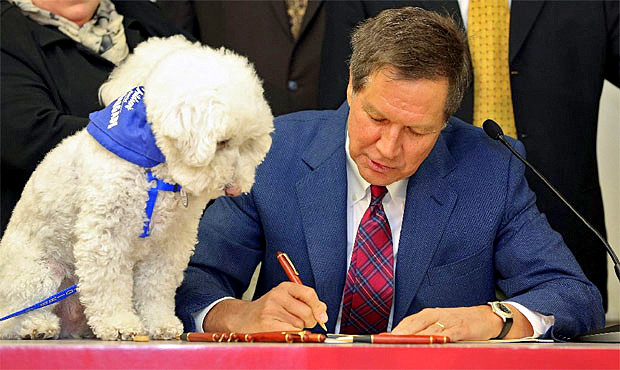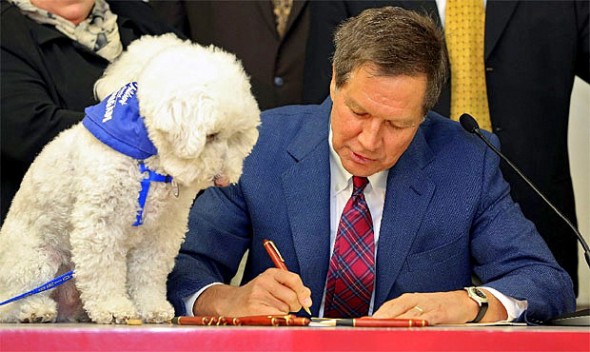 New York and Ohio's governors just signed into law bills cracking down on puppy mills. Though these measures will still allow breeders to continue churning out puppies for profit, the bills aim to greatly improve the lives of thousands of dogs, and are just the beginning of many politicians' aspirations to better protect animals.
The New York bill was sponsored by Assemblywoman Linda Rosenthal, a cat owner and animal lover.
New York's Department of Agriculture and Markets will go on enforcing current state laws regarding breeders' care of their animals, and it will be up to local municipalities to adopt the harsher laws.
"Hopefully there are going to be a lot of good local bills that prevent puppy mills from either gaining a foothold or operating in these localities," said Assemblywoman Linda Rosenthal (D-Manhattan), a sponsor of the bill. "This is a good step in the giant undertaking of getting rid of puppy mills, which only produce suffering."
Though he may have already intended to sign it, Governor Cuomo may have been largely influenced by the publicity surrounding the case of the Sprakers dogs, a number of Border Collies and Shih Tzus being kept outdoors as temperatures plummeted well below zero, with only plastic oil barrels as shelter. It was reported that two puppies had already frozen to death.
Many of the dogs were seized from owner Herbert Weich, and some will be returned if he provides adequate shelter for them within two weeks. The law is very lax considering that pets die from being left out in the elements, and carries a maximum fine of $100 for a first offense.
"The current penalty is the equivalent of an expired parking meter," state Senator Cecilia Tkaczyk (D – Duanesburg) said in a statement. "Knowingly leaving dogs to suffer in the cold should be treated as a crime, not as an expired parking ticket."
Montgomery County Sheriff Michael Amato wrote a letter to Tkaczyk, complaining that his office and state police "are not able to do anything" about cases like these. Tkaczyk's knowledge of the situation initiated her own action in seeing the law changed.
"It's just one step," she said. "We'll be continuing to work on this to make sure that what we're changing makes sense to what's out in the community, and what our local officials are dealing with."
Ohio has long been criticized for being the second worst state for dog breeding. Dogs there face very little protection from unscrupulous mill owners, who do not care that their dogs spend their entire lives in misery. Now Ohio breeders must have background checks, proof of insurance, a surety bond and a set relationship with a veterinarian who will provide their animals' care.
"The puppy mill industry wanted to keep the state law unchanged because it allowed maximum profit and minimum accountability," said Matt Bershadker, President and CEO of the ASPCA. "But with this law, we'll be able to keep a closer eye on these operations, stop inhumane practices, and undoubtedly save many lives. For New Yorkers and animal lovers – and animals themselves – this is a huge and important win. The ASPCA stands ready to assist local governments as they seek to enact and enforce tougher laws on pet stores and commercial breeders."
Though the bills are a big step, they're just the beginning of a long road. Rosenthal will continue in her efforts of increasing animal protection.
"The ultimate goal," she said, "is to end puppy mills."