A day before Valentine's Day, officer John Rogers from Dallas came to the rescue of a scared dog on I-35 north at risk of being run-over by cars. The officer responded to the emergency call and he not only saved the female white boxer-pit bull mix, but he offered to adopt her if her owners are not found.
The emergency call said there was an obstruction on the highway, and when the officer arrived he discovered the obstruction was the scared dog lying on the inner shoulder lane of the highway.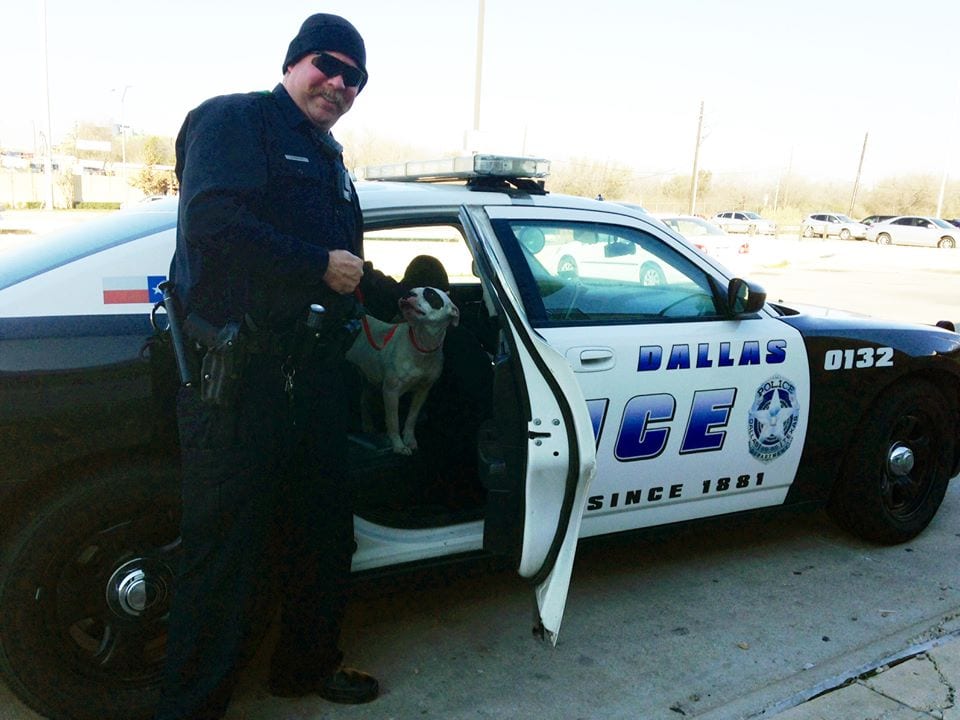 "I tried to get her to come towards me so she wouldn't run into traffic," officer Rogers told NBC. It only took a few minutes for the officer to convince the dog to come to him and then to jump in the back of his patrol car.
As soon as the pet was safe her fears went away and she showed Rogers how happy she was to have been rescued.
"She was kinda licking me on my face and I was interacting with her, scratching her behind her ear," said Rogers. "She didn't try to snap at me or anything like that. She seemed very affectionate."
The officer transported the dog to Dallas Animal Services headquarters located on Westmoreland Road along Interstate 30, and before arriving he bought dog treats and texted a photo of the dog to his wife.
Roger's wife replied and suggested the dog should come live with them, "and since it was the wife's idea, and it is close to Valentine's [Day], I didn't want to take a chance on undermining that," Rogers said.
Dallas Animal Services placed the pet on a three-day hold period. If the dog's owners don't claim her, the pet will be able to join the Rogers at their home. She will be their fourth pet.
Officer Rogers nicknamed the dog Laurel and is anxious to bring her home.