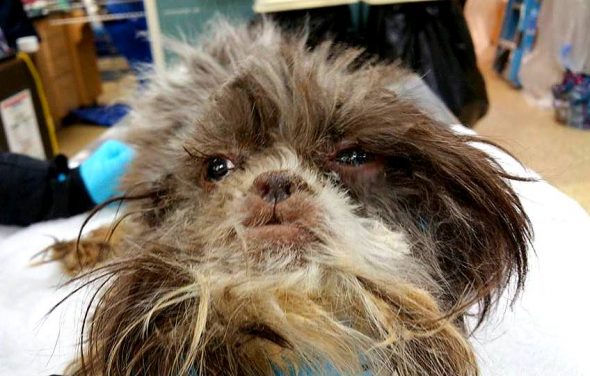 This picture is undoubtedly heart-wrenching and anger-inducing; how anyone could allow an animal to suffer this way??  While Liz has certainly known suffering, her perseverance is truly remarkable.  She is now being given the best care possible, and will know nothing but love and kindness from here on out.
This is what Trio Animal Foundation had to say about this poor girl's outrageous condition:
THE EMERGENCY VET SENT US THEIR PHOTOS OF WHEN THEY SHAVED LIZ DOWN… THEY ARE HORRIFIC AND SHE LOOKS LIKE A SKELETON. IT IS TRULY A MIRACLE THAT SHE IS STILL ALIVE.
On Monday, TAF posted that we were called about a dog that was brought to an open access shelter. She was soaked in urine, blinded by matted fur over her eyes, emaciated and unable to stand on her own. We picked her up and brought her straight to the ER vet.
So that her medical team could fully assess Liz's medical condition, she was immediately shaved down. We could all feel that Liz was emaciated but what lay underneath her urine-soaked, matted fur was unforgivable… it defied logic that she was still alive.
After several hours at the ER, Liz's temperature finally came back up to normal. Besides being cold, she weighed in at only about four pounds. A dog her size should weigh at least 10-12 pounds. After x-rays and bloodwork were taken, it was determined that Liz could not stand because she is simply too weak from starvation and extreme muscle atrophy.
Liz was started on IV fluids and given a few very small pieces of chicken… she was absolutely ravenous.  To prevent refeeding syndrome and not overwhelm her system, Liz will only be allowed to have a 1/3 can of wet food a day. This amount will be given to her in several small meals and will slowly be increased with time.
We know that Liz is an adult Shih Tzu but it is impossible to know her age. Normally we would take in muscle tone, condition of her teeth and clarity in her eyes. Since Liz is such deplorable condition, none of her physical traits match up. For instance, her front teeth look like she is five, but her back teeth look completely different and aged. Since a poor diet can greatly affect a dog's dental condition, it is a guessing game. We are just going to have to go with "mature adult" as her age.
Today marks the 4th day that Liz will have been hospitalized at the ER vet. More than ever, TAF is asking for help in sponsoring Liz's medical bills. At this point they are going to be astronomical and there is no way that we would move her to cut medical costs. She has been through too much and deserves ever chance that can be afforded her.
If you would like to help sponsor Liz's medical bills, we would really appreciate the help. Any tax-deductible donations can be made at www.trioanimalfoundation.org. You can earmark your donation "Liz." If you are making a donation via a smartphone, and aren't able to earmark your donation, please email your receipt to [email protected].
On Wednesday, with a little help from her doctor, and when placed on a rubber mat, Liz was able to hold herself up for a minute or two. Still too weak from starvation, it will take gaining weight and some physical therapy to help Liz fully regain her strength and muscle mass back. If she has it in her to keep on going, we will do everything we can to make her whole again.
UPDATE, 2/5/17:  We have some good news about Liz today… she has gained a half pound! Also, her medical team said that they were able to get her to walk a few steps with a little help of a tiny piece of chicken.
Liz still has a very long way to go but these small victories are very encouraging… she has the heart of a champion and hasn't given up.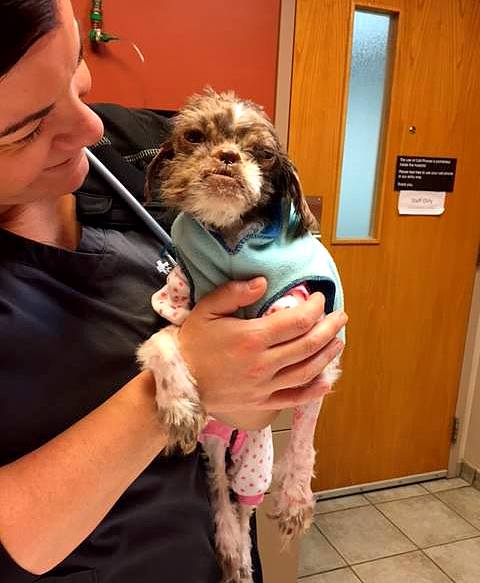 UPDATE, 2/6/17, 1 PM:  We have some good news today… Liz was strong enough to fully stand up on her own and walk a little over five feet! This is a major victory!
As far as Liz's slow refeeding regimen, she was allowed to have 12 tablespoons of special wet food yesterday. If her system can continue to handle this amount of food today, Liz will receive 14 tablespoons of food tomorrow. These feedings are spread throughout the day and Liz is ravenous when you put the bowl in front of her.
Liz is still very frail and everyone is trying to stay realistic. However, this is a miracle that needs to happen and we are not going to give up on her… the fact that she has thus far survived starvation defies logic there is no way that we are going to give up on her.