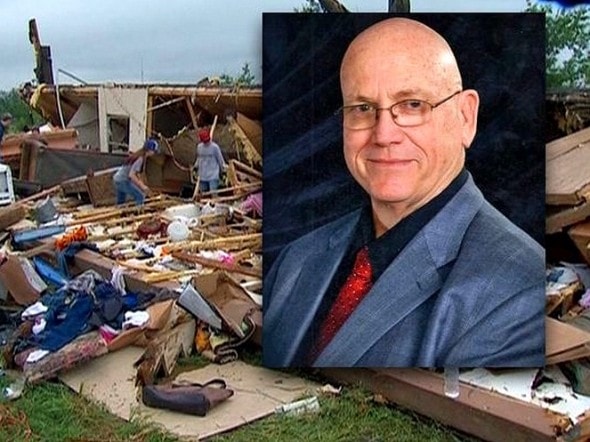 David Tapley, his wife Brenda, and two of their dogs tragically lost their lives in an EF3 tornado that touched down near their home in Van, Texas.  However, there is a silver lining:  one of their dogs was found alive, cradled in the crook of David's arm.
The tornado struck on Sunday night, collapsing the retired detective's home.  On Monday morning as residents were regrouping and salvaging what they could of their lives, 14-year-old Emmanuel Vasquez noticed that he hadn't seen the Tapleys.
He ventured over to their property to find them, hoping he would find survivors.  Sadly, the Tapleys perished.
"I saw something and I got close to it," Emmanuel told CBS.  "And it was the lady and then the man. So I just froze for a moment. And then I screamed for my dad."
Dad Aaron Vasquez had just seen the couple over the weekend, and was deeply saddened to learn of their fate.  He says David was found with one arm reaching toward his wife, and the other curled around his dog.
David and Brenda were huge animal lovers, and said to be very involved with local rescue groups.
Fortunately, the 700-yard wide tornado did not claim any other lives than those of the Tapleys and their dogs, which is amazing because residents had short notice between when the alarms sounded and when the tornado swept through.
"It was horrifying and quick. I pulled the hideaway couch over me and my two dogs," Nathan Mims told the Tyler Morning Telegraph. "The couch got pulled off of me, and I got some scrapes and bruises, but I wound up walking out and going to my next door neighbors, who were buried under their house."
Other dogs who have been displaced by the storm are now being cared for by a local marshal's office as well as some rescue groups.
….