When Avel Garon and Agustin Derequito took a break from their painting job and walked over to a local restaurant to grab lunch, they never expected they would be saving the lives of two dogs, but that's just what ended up happening.
On July 29, 2013, Garon and Derequito saw smoke coming out of 121 Wood Haven Drive, Palm Coast, Fla., and as they approached the house they heard desperate barks. The men feared there was someone trapped inside the house. They broken down the door and entered the house wanting to pull to safety whoever was inside. What they found were two dogs. The painters turned heroes pull both animals to safety.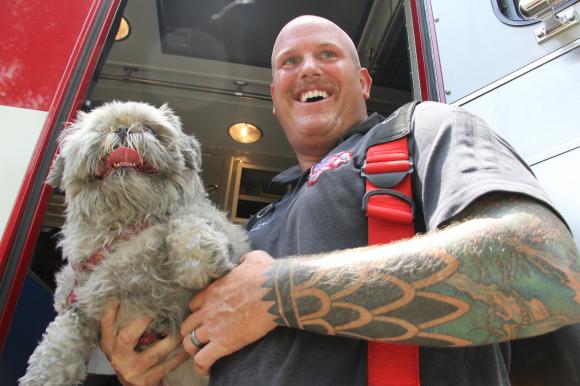 A neighbor had already called authorities to report the fire and Flagler County Rescue and Palm Coast Fire Department were on their way to the scene.
Firefighters were able to contain the fire and rescue a third dog they heard whining inside the house.
"I knew that Lt. [Jason] Wagner was in there, and then the dog came sliding to me," Flagler County paramedic Ivan Grant told Palm Coast Observer. "I grabbed him. He was limp and I set him on the board, gave him oxygen and started compressions to get his lungs to work a little harder."
The third dog, named Muffy, was a blind dog unable to escape the smoke because it was inside its cage. Thanks to fire rescuers, Muffy was revived and is expected to be just fine.
The house was completely destroyed by the fire, luckily no lives where lost and the three dogs trapped inside were rescued in time.