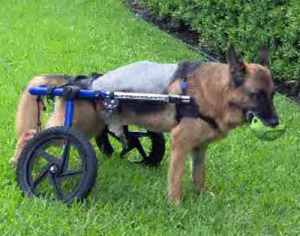 Since January Brando, a 9-year-old German shepherd, has been paralyzed from the waist down. Now veterinarians are using a new two-part stem cell therapy to help Brando walk again.
Brando became paralyzed when a skin infection spread into his lungs and then into a disc in his back causing 80 percent of his leg muscles to weaken. He has been using a wheelchair to get around ever since.
"We were totally emotionally destroyed," said Brando's owner Manuel Bouza. "Kids were crying, wife was upset, I was upset."
The Bouza family wanted to do whatever they could to help Brando though. Manuel Bouza came across a YouTube video of a dog in Great Britain that received stem cell treatment and wondered if the same treatment could help Brando.
The procedure had never been performed in Florida where the Bouza family lives but they wanted to try.  Last Wednesday Brando received the first part of the treatment at Paradise Animal Clinic in Hialeah. Surgeons took fat from Brando's stomach and used that to process out stem cells that were then re-injected into his spinal cord. Hopefully the cells will regenerate tissue to help Brando walk again.
"The idea is that stem cells are able to go to a given place in the body and repair," said surgeon Jose Gorostiza. "Hopefully they will help the cells that are there function again."
Whether the procedure works will take time to know. Each animal responds differently and it takes several months before it is known if the procedure is successful. In the meantime Brando will go through physical therapy and receive another round of stem cells in a few weeks. For now though the procedure isn't hurting him as he's getting around on his wheels and playing as always.