On April 9, 2014, Brandi Glaske, founder of Saving Argo Dog Rescue, adopted a paralyzed Pit bull puppy left for dead on a Michigan road. Today, the dog whose previous owners abused her, leaving her paralyzed, is a happy, healthy dog with the hopes of walking on all fours one day again.
"They threw away a really good thing," Glaske told Fox 17. "They have no idea what they missed out on. It's just so sad, because she was never even given a chance."
Glaske named her Honey the hopeful Pit bull and took her to Kelley's Animal Clinic. When rescued, the small pup dragged her hind legs and vets feared there wasn't anything they could do to help her, but with time, water exercises, soft tissue laser therapy, and a doggy wheelchair, Honey has excelled. Today she runs with the help of a doggy wheel cart as if she was any normal dog.
Her adoptive family wanted to tell Honey's original owners what great dog they missed on, and therefore Glaske posted an open letter on Craigslist titled "I Have Your Dog, and You Can't Have Her Back" (see letter below).
Honey sure is a great dog, and we hope her dream of walking on all four legs does come true and soon.
Learn more about Honey's story on Facebook.
I Have Your Dog, and You Can't Have Her Back
On April 9 I picked up an approx 4 month old reddish-brown pit bull puppy from the Montcalm County Animal Shelter. She had a back injury and could not walk, only drag her rear legs and end behind her. She had been at the shelter about 2 weeks before I learned about her. She was found as a stray, injured most likely from being hit or thrown from a car. While her body was broken her spirit was not, she cuddled with my 10 year old son the entire way home from the shelter, holding onto him with her paws and staring up at him like he was her entire world. It was clear I would be fostering this one myself.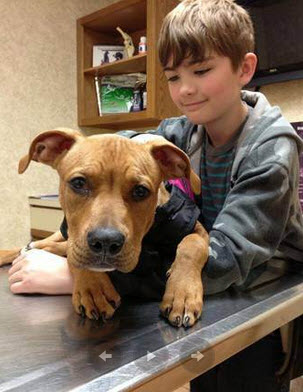 We drove straight from the shelter to our vet Kelley's Animal Clinic, where her injury was finally diagnosed via x-ray and we were told of her treatment options. It was bleak but there was reason to hope. Our vet recommended starting soft tissue laser therapy immediately to help alleviate the swelling in her spinal cord which was causing her to be paralyzed. We did these treatments every day for a week and then every other day for another 2 weeks, then twice a week, once a week and now once a month. After just one week she began to wag her tail and move her legs. The progress she has made is nothing short of miraculous! From dragging herself around, toes bloodied to walking on her own in under 2 months. Her back legs had lost all muscle tone but now she is getting stronger and rebuilding muscle. The distance she can walk is limited but improving every day. We want her to have as normal of a dog life as possible so we had a rear support wheel cart made just for her and she went for her very first WALK yesterday. She made it an entire block before showing signs that she was tired. We will go a little further each day. We could not have done any of this without the loving care, patience and expertise of our vet, we are eternally grateful to you!
Honey LOVES people and gets along so well with our other 3 dogs and cat. She adores my children and is so very gentle with our youngest who is just 18 months old, we refer to them as "the babies" because they are always getting into trouble together! She has been such a blessing to our family and shown us what the word "resilient" really means. We have fostered many dogs over the years; injured dogs, blind dogs, sick dogs and Honey has shown us a whole new side of what can be accomplished with enough love and time.
To the person that hit her or threw her from their car, I have your dog and you will never get her back. I do believe in karma, and I hope that you have trouble sleeping at night and that her sweet face and loving eyes haunt you daily. She is one of a kind, with a heart twice the size of yours. If you hurt an animal with your car you have a responsibility to help them, not leave them for dead on the road. But its ok, my family and our rescue Saving Argo Dog Rescue and our generous donors are helping to pay for the damage you did and she is worth every penny & minute spent!
I want to live in a world where people take responsibility for the lives they promise to care for. Buying, Rescuing or Adopting a dog is a LIFELONG commitment; it's a promise not to be made lightly. You have the entire outside world to find friends, fulfillment and happiness; all your dog has is YOU.
Sincerely,
Brandi Glaske, Saving Argo Dog Rescue