It never gets old to read stories that talk about how a loved pet was saved by rescuers all thanks to them carrying pet oxygen masks as part of their rescue equipment. On August 26, 2013, firefighters from Villa Park, Ill., saved the life of a white French bulldog who was trapped inside an apartment building that caught on fire.
It was 12:17 p.m. on a Monday, when Villa Park firefighters received a call asking the unit to investigate suspicious smoke coming from a five-unit apartment building.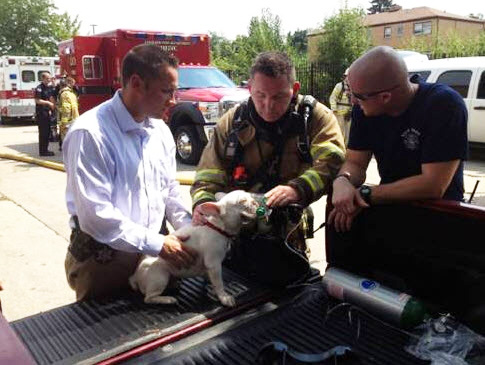 When the fire rescue unit arrived at the scene, the suspicious smoke had become an active fire. The blaze was concentrated on the east side of the building in a stairwell.
Most of the building tenants exited their residences without assistance, but a four-legged tenant was trapped inside his owner's garden apartment and needed a hero to rescue him.
After containing the fire, rescuers were able to pull the pet to safety, but due to large plumes of smoke filling the building, firefighters knew that it was best to treat the dog with oxygen.
Fortunately for the pet, the Villa Park fire department carries pet oxygen masks with their equipment and they were able to treat the dog on the scene.
The Daily Herald reported the fire did not cause any casualties or injuries. However, the building did sustain damages worth $80,000 to $100,000. The cause of the fire is under investigation.
As for the cute, white, little Boston terrier saved by the hero and the pet oxygen mask, he was released to his owner and is expected to be just fine.