Photographer Candice Sedighan was only 10 years old when her dad brought home Champ, a golden retriever puppy.  The family was mourning the loss of their dog, and her father hoped a new puppy would help ease the pain and show them there was still plenty of room in their hearts for love.
In the 10 years since, Champ has served not only as Candice's friend, but also the subject of her photos.
"Champ and I have grown up together," she said.  "After my dad passed away in 2012, he was once again a great comfort to me."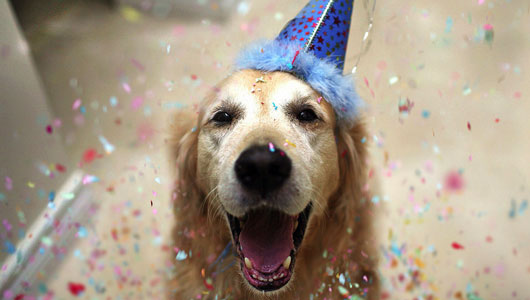 Candice's interest in photography began at 13, and it wasn't before long that Champ became one of her favorite models.  With lots of praise coming her way, she decided to create a Flickr account and join the group "52 Weeks for Dogs."  Contributors take a picture of their dog once a week for a year.
"It's a close-knit group that is really supportive of one another," Candice explained.  "Since you are supposed to take a photo of your dog every week, it always keeps me on my toes to make sure to pick up my camera and practice my skills regularly."
The group inspired her to get creative and improve her skills.  Champ has been photographed in costumes, with props, and even underwater, but he doesn't seem to mind all the attention.
"I get my ideas just by observing what is around me," Candice said.  "Whether it be coming across a nice location or interesting prop at the store, or just simply how the sun is setting or the rain is falling.  When I don't have a specific idea planned out for the week and can't think of anything, I literally just go outside and look around me."
But all her good ideas would be futile if not for Champ.  The smart and obedient dog has been trained to perform a number of commands, including sit, stay, cuddle, and take a bow.
"All these basic tricks and commands he has learned come in handy if I have a specific photo idea in mind. For example, I have a photo of Champ with a live butterfly on his nose and Champ's 'leave it' trick in which he can balance treats and other objects on his nose helped achieve this."
Champ's snapshots have been more popular than Candice could have dreamed.  They have won a number of photography contests, but the zenith came when she won Hallmark's greeting card contest.  Champ can be seen on three cards sold across the US.
"My photos pretty much just started as a way to share photos of my dog with other dog lovers and since then have become much more," she said.