This weekend, 400 dogs and puppies were given a second chance at life when they were flown out of high-kill shelters in Georgia and transported to various no-kill shelters around the east coast, all thanks to the many volunteers with Pilots N Paws. This has been their largest one-day air and land rescue in the southeast.
"It's so nice to see so many coming in from kill shelters," said Audrey Stanbury, who planned to adopt a Boston terrier on board. "It's wonderful what the pilots are doing. It's phenomenal; it's touching."
The excitement was difficult to contain when Jeff Bennett and Jeff Luizza landed two planes at Palm Beach County Air Park – they contained 60 puppies and 2 cats taken from shelters in Georgia, Alabama and North Carolina. Even as young as they were, these pups were already on the euthanasia list. A Second Chance Puppies and Kittens Rescue took them in and found foster homes for them.
"You have to consider yourself the bridge from their old life where they were neglected, abused, abandoned," said Ruth Douthitt, the group's past president. "You're the bridge that gets them ready for their forever homes."
Sometimes those forever homes come sooner than expected. Bob and Lindy Harvey and daughter Caroline were planning to foster one of the puppies, but Bob thinks he might not be able to just be a foster parent.
"I don't see myself fostering a dog. "We're dog people. They become members of the family," he said, implying that a permanent home was more likely. "I think this is one of the greatest things the community can do as a whole."
"Who wants a dog?" Ellen Herr said as she stepped out of her single-engine plane in Naples, Florida. She flew in 11 dogs, and says that flying them in is less taxing.
"It's a nine and a half hour drive from Georgia to here," she said. "Flying is a lot easier. It's a lot less stressful on the dogs."
It takes less time to fly, so anxious dogs don't have to be cooped up as long. On this trip they settled down after only 10 minutes. Herr makes sure their cages are safely bolted shut after one incident with a boxer who chewed through the zipper of a paper cage and got out.
"He just kind of sat on top of the passenger seat and was just looking around," she said. "Boxers are smart dogs. He just wanted to be with another person."
Another delighted volunteer, Matt Miller, helped unload the Chihuahua and 10 retriever mix puppies when the plane touched down.
"This is saving more lives," Miller said. "We like to take dogs from rural areas, and these are small dogs. Since there are so many condos in Naples, small dogs work well here. These dogs will probably be adopted in a week."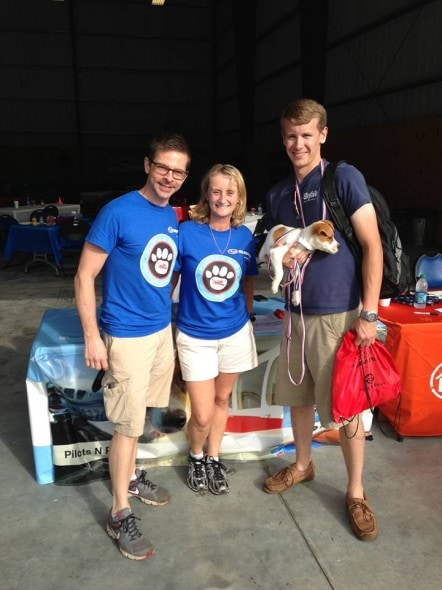 Pilots N Paws has already saved so many lives, and will continue to save more. A puppy named Lacey was found by a volunteer who was disgusted to see that someone was "trying to run Lacey and her mother down for sport with their car." But thankfully she was saved and is headed to her new home in Tampa. Another dog, a pregnant one, was rescued along with all of her puppies thanks to the group and pilot Charlie Raber.
"The work done by Pilots N Paws and its hundreds of volunteers not only has saved countless wet-nosed lives, it's brought joy to the many families who have welcomed these animals into their homes," said Petmate spokesman Larry Baab, whose company has donated over $100,000 in travel gear to Pilots N Paws to help animals find homes.
Though people volunteer their time and personal resources to save animals' lives, donations are always needed to save as many as possible. If you would like to help save a life or to follow the ones who have been, please visit Pilots N Paws' Facebook page.