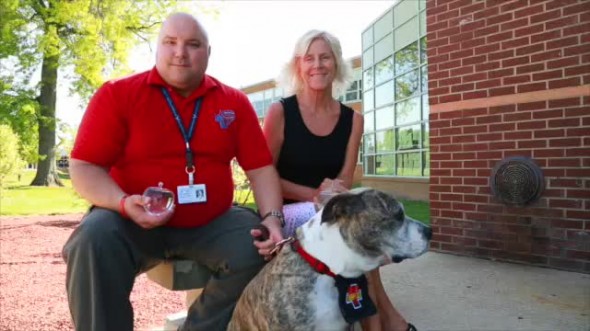 Alexandria, or Alex for short, received the Crystal Apple Award from Ohio's Amherst Village Exempt Schools, designating her as the first non-human recipient of this award for outstanding achievement in her work with special-needs kids in the school system.
The nominations for this award are made by district teachers and staff, and there are only a couple of people selected each year.  This year, Kaye Long and Paula Brooks, two teachers that work with Alex and the special-needs kids, decided to nominate Alex for the award.  All 17 of the students from both classes wrote letters to the school board in support of Alex's nomination.
"Alex spends around three hours each week, usually Thursday afternoons, working with two classrooms of special-needs students at Harris Elementary School in Amherst, said Chip Ingersoll, Alex's human and trainer.
Ingersoll owns and runs the Alpha-Dog Pet Center in Amherst.
"These students range from grades three to five and have various special-needs, such as learning disabilities, autism and social or emotional issues," said Ingersoll.  "They read to Alex, talk to her, share stories and tell her their problems," he said.  "Sometimes they just pet or play with her, using Alex as a form of sensory stimulation.  They open up to her in a way that they often don't with any of the school staff."
"Alex is a Certified Therapy Dog, which means she is a special type of service dog that can go into schools, nursing homes, hospitals and visit people to make them feel good and lift up their spirits," said Ingersoll.
What makes things more interesting with Alex, is she is a pit bull.  Pit bull breeds are not usually known for being service dogs, and have unfairly gained a bad reputation in the media.  Alex is showing that despite the popular opinion of pit bulls today, when trained and cared for properly, they can be the best dogs in the world.
"If the owner teaches it to be aggressive and be a fighting dog, the dog will give the owner 110% in that direction.  A majority of pit bulls are wonderful, loving, non-aggressive dogs.  It's all in how they are raised and trained," said Ingersoll.
When asked just how Alex is taking to her newly found fame, Ingersoll had this to say; "If she could talk, she'd say 'What's the big deal? I enjoy doing this!'"