On Sunday, August 24, 2014, Kye, a three-year-old German shepherd K-9 officer for the Oklahoma City Police Department was killed in the line of duty when chasing down a burglary suspect. The dog was put to rest with full honors four days later, and hundreds of police officers and animals lovers were present to show their respect for the four-legged officer.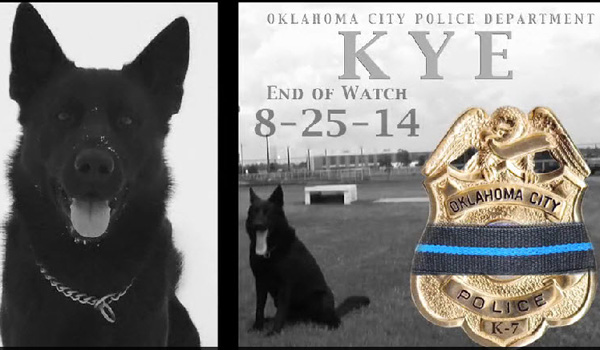 Sgt. Ryan Stark, Kye's handler, was attempting to apprehend 22-year-old Mark Salazar, who allegedly broke into a car and led police on a 30-min high-speed chase. After the high-speed pursuit ended, Salazar took off running and Stark released his K-9 partner to go after the suspect. Unfortunately Salazar ended Kye's life by stabbing him multiple times. Stark allegedly shot the suspect after the suspect stabbed the dog. Salazar died at a hospital the next day.
Kye's funeral was held at First Baptist Church in Del City, on August 28th. The casket was draped with an American flag and was flanked by two uniformed officers. The fallen K-9 received a full eulogy and a 21-gun salute.
The day was an emotional one, especially for Stark, who trained and lived with the four-legged officer since the dog was just over a year old. Kye wasn't just Stark's partner, he was a family member and the best four-legged sibling Stark's children ever knew. As a final good-by gesture, Stark leaned over his partner's casket and gave his four-legged best friend a final pat.
Oklahoma City Police Department put together a video tribute for Kye that you can watch here. This was played during the K-9 officer's funeral.
Stark is currently under investigation for his use of deadly force. The sergeant's days on the job will not be the same now that he is missing and mourning his best friend and partner.
Kye, you are greatly missed. Thank you for your service. You will forever live in our hearts.