On July 25, 2014, Army Veteran Kolby Thompson graduated from Universal Technical Institute's (UTI) Auto Diesel and Industrial program, but this achievement was made possible because of Thor, Thompson's service dog. The accompanied his owner to very class, and it was only natural to have the four-legged friend walk across the stage dressed in cap and gown along his owner.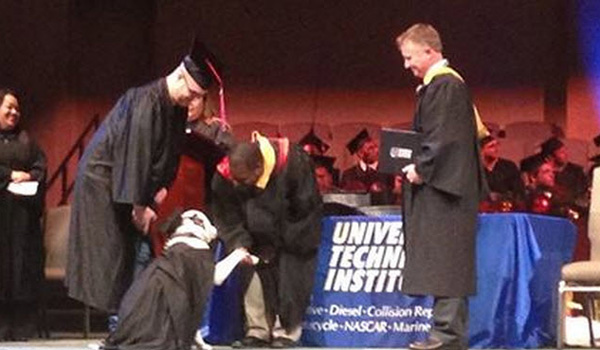 Thompson served his country for eight years in Iraq, Afghanistan, Korea, Kuwait, Fort Bragg and Fort Bliss, and the exposure to war left him with posttraumatic stress disorder (PTSD). In order to cope with his daily PTSD, the veteran opted for a service dog. Three years ago he rescued Thor in El Paso, and because they had a strong bond, the war veteran decided to make Thor a service dog. Since meeting, the American Stafford Terrier and Thompson have been inseparable.
When Thompson is on the verge of an anxiety attack or flashback, Thor will immediately respond and help him return to reality.
"If I were to leave his side or be out of his sight, he will look for me," said Thompson. "Thor is my partner in crime. I wouldn't know what to do without him."
Darrin Burst, UTI Houston's campus president said the school is very proud to have military men participate in their programs.
"We are a part of helping them move forward after they have served our country. Everyone on campus has enjoyed seeing [Thompson and Thor] succeed so it only seemed right that Thor walk across the stage with Thompson," said Burst.
Graduation day was a memorable day for all UTI's students, but for the war veteran, it marked the finish line to accomplishing his goal, graduating, and the beginning of a life full of employment opportunities.
Thor's assistance allowed Thompson to complete his education and he now looks forward to continuing his training in the Cummins program at UTI Houston.
Congratulations to Thompson and Thor!