Just a few short months after her retirement, a decorated police K9 was diagnosed with terminal cancer, and before he was forced to bid her farewell, her handler took her out for one last ride in his cruiser.
The 11-year-old German shepherd, Kora, put in 9 years of commendable service with the West Hartford Police department before being retired in August. Around the same time, her handler, Officer Eric Rocheleau, noticed that she seemed sluggish and under the weather.
The dog lived with Rocheleau during her retirement, and when she took a turn for the worse on Monday, he brought her into his vet for a checkup. The news he was given could not have been worse: an ultrasound revealed that Kora's spine and liver were covered in tumors that had advanced to the point of causing internal bleeding.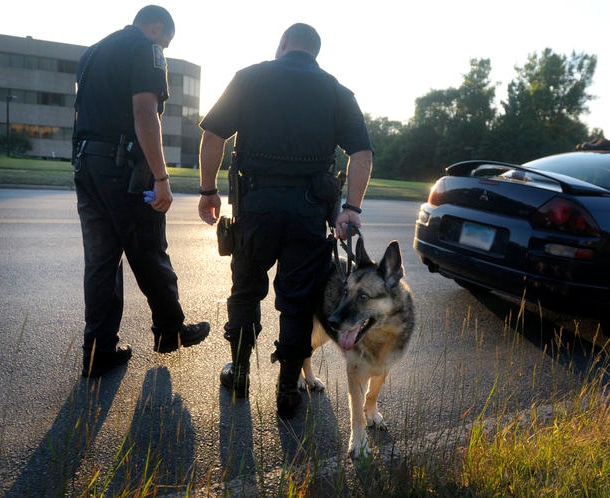 photo: Richard Messina/Hartford Courant

Determined to save Kora, Rocheleau sought a second opinion, but was saddened to learn that nothing could be done: she would have to be euthanized within a matter of days to prevent her from suffering greatly. Loving her as he did, Rocheleau accepted the diagnosis and prepared to say goodbye to his devoted partner and friend.
It was decided that before her final vet appointment, Kora should be given a chance to spend one last day at the job she loved so much. She spent part of her day at the office with Rocheleau before taking one last spin in his cruiser.
"I was met at the vet with my old cruiser, and we were able to give Kora one last ride in her old car," Rocheleau told the Hartford Courant on Thursday. "Both K-9 handlers, the K-9 unit supervisor, the sergeant on duty and animal control were there to give me support."
At the end of the ride, Rocheleau took Kora home for one last goodbye. A few hours later, she was gone, her partner left grieving the dog that he described as "a member of the police department's family."
Kora was given a merit award for her bravery while working a 2003 robbery in Bloomfield. She was the fourth dog to be retired from the department, and officers celebrated her last day on the job with a party.
Rocheleau said he will miss his partner, but is so glad they had one last day on the job together. "We worked at the front desk, and I am so thankful I brought her that day," Rocheleau said. "A lot of people got to see her and pet her, not knowing what was going on."