Alicia Martinez, a 17-year-old from Spain, used to love dogs and enjoyed their company, but everything changed when she was attacked by a loose Rottweiler on June 28, 2013.
Martinez was walking down the street with her headphones on. She passed a residence were the home's door was opened and an aggressive dog was outside. The dog was not leashed and it had just attacked another passerby who had climbed up a tree to avoid the pet. Oblivious to these events, Martinez became the next dog bite victim when the Rottweiler jumped from behind her and bit her arms and back.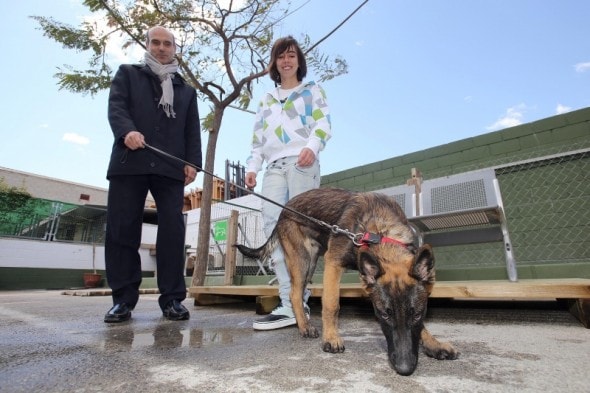 A man driving his car was able to get the dog off of Martinez and place the teenager in his car while they waited for an ambulance to arrive.
Since the attack, Martinez had not been able to be near any dogs, she even stopped going out with her friends because she was terrified that if she would encounter a canine on the streets, she would have a panic attack.
"When I came out of the hospital I never expected to be so fearful of dogs," Martinez told La Gaceta. "I didn't understand this new feeling, I had never feared them before.
The young girl sought professional help to try get over her dog phobia, but even after participating in six months of therapy, she was nowhere close to overcoming her fear of dogs.
This changed when the police unit of Alicante, enlisted the help of Police Officer Sergio Melgares and their two K9 officers, a German shepherd and an 18-month-old Rottweiler named Koldo. During two months, Alicia has met with police officers and their K9 officers eight times, and slowly she has done therapy and gotten closer to the dogs. Martinez's dog phobia has slowly stopped.
The therapy with the K9 officers has been such a success that Alicia no longer fears the dogs, she even feeds Koldo by holding a hot dog link in her mouth and allowing him to take it away from her.
"This kind of therapy has been the best thing I could have ever done," said Martinez. "Now when I'm out and I encounter a Rottweiler I no longer panic, I feel comfortable."
According to Melgares, Martinez is very brave to want to get over the phobia after such traumatic attack. "We offer to help her and the therapy has been a complete success" Melgares said.
We applaud Martinez for overcoming her fears and wanting to continue to be an animal lover even after experiencing a traumatic and scaring dog bite event.