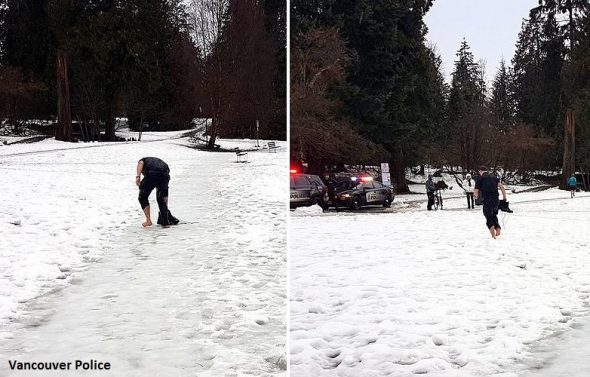 A dog came close to dying after falling through some thin ice, but a Vancouver police officer didn't hesitate to brave the painfully cold water to save his life.
The Vancouver Police Department received a call on Friday around 4:30 pm about a dog that had gone chasing after a ball and fallen into Lost Lagoon at Stanley Park.  When officers arrived, the dog was struggling to keep his head above the water, quickly succumbing to hypothermia and exhaustion.
"Concerned for the immediate well-being of the dog, one of our officers removed portions of his uniform, took hold of one end of a rescue rope, and with his co-workers holding the other end, he made his way to the dog," Constable Jason Doucette told CBC News.
Peter Colenutt took off his jacket and heavy work boots and trudged through the freezing cold water.  Once he had a hold of the dog, the team pulled them in.
"Both the dog and our officer made it back to shore, cold, but uninjured."
Hopefully the dog was also reunited with his family.