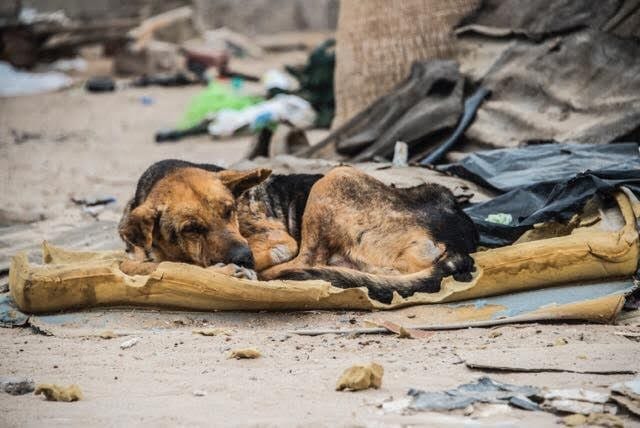 Christi Camblor was driving in Pureto Penasco, Mexico when she spotted one of the saddest sights she had ever seen.  This poor dog, almost nothing but skin and bones and clearly in bad shape, needed her help badly.  Fast forward to today, and even she has a hard time seeing him as the same dog she rescued off the streets of Mexico.
"It was very sad to see him in that condition," said Camblor, cofounder of Compassion Without Borders, an organization that rescues street dogs in Mexico, to The Dodo.  "He was on this pile of trash, but he was trying to find a little comfortable space, so he was on this little torn-up cushion."
Apparently, this is all too common of a sight in Mexico.  Occationally they may come across a dog on the street that is "claimed" by and "owner," however most are just homeless dogs wandering about.  Most of the dogs are in need of some sort of medical assistance, many of them rarely have enough food or access to clean water either.
Camblor noticed that there was a market nearby, so she and her team went there to see if anyone knew anything about the dog.  They wanted to know if the dog did indeed "belong" to someone.
"They said that he was indeed homeless, and he'd been there for about a month, and that he was blind," Camblor said.  "Everyone in the area knew him as the old, blind dog who lived in the trash pile."
She wasn't sure if the dog was friendly or not, and no one she spoke with seemed to know anything more about him than he existed.  She approached him with caution, not wanting to scare him.
"I didn't want to startle him because I knew he couldn't see," she said.  "But the moment that I kneeled down next to him, he was so friendly.  He responded really nicely to me petting him and touching him.  I offered him some food, and he immediately ate it — he was voracious."
She decided to call the dog Don Felipe, and she took extra time and care on the ground with him to help him understand that she was there to help.  When she sensed that he had become comfortable with her, she scooped him up and took him to her van.
"He actually sat in my lap in the back of the van," Camblor said.  "He was so responsive to the slightest kindness, just leaning into me and enjoying his pets.  He would have felt confused, for sure.  He'd probably never been in a car, but he seemed ready to trust."
As mentioned, Don Felipe was in a bad way health wise.  However, Camblor refused to give up on him.  Over time, he got much better.  He started gaining back a bit of his mobility, and it turns out he isn't 100% blind.  In fact, he hardly looks like the dog Camblor had rescued just a short time ago.
"He likes to run around with other dogs," Camblor said.  "He's a healthy, happy wonderful guy."