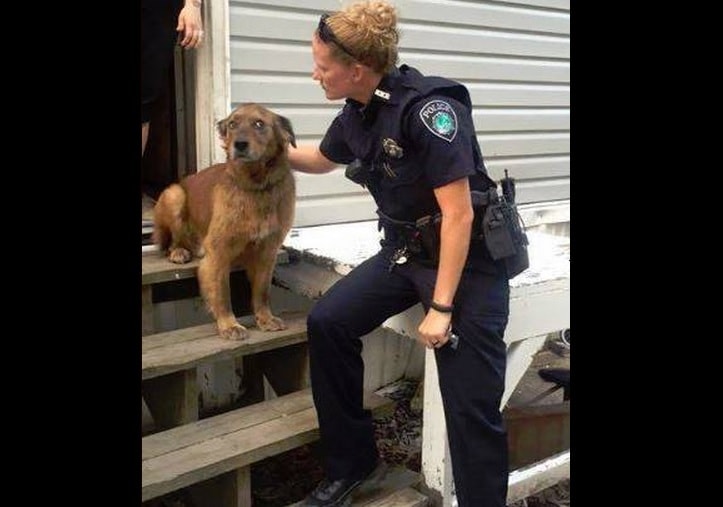 A Newport News police officer was responding to a call at the Davis Mobile Home Park, and became a dog rescuer in the process.  Seeing the state of the home, Officer Kendra Druker took one look at Smokey the dog, and didn't hesitate to act.
"I saw this dog that was just laying down on the ground, and I am prone to going to the dog.  I wanted to see whose dog it was, and no one claimed the dog," said Officer Drucker.
It was the other neighbors in the park that informed her of the dog's name.  Apparently, Smokey was viewed as pretty much the pet of everyone in the park, but his food and water bowls were kept at the home the officers had been called to.
"I went into the house where the dog was staying, and there was just an infestation of cockroaches and critters in the house.  The dog you could just clearly see wanted attention," she said.  "It followed me around the whole entire park while I was walking around.  He was very friendly when you approached him; he just wanted attention, and that was basically what I wanted to do."
Officer Drucker decided that she was going to make sure that if Smokey was going back to someone at the trailer park, it most definitely was NOT going to be back at a place anything like where she found him.
A neighbor did step up with an offer to take Smokey in, but Officer Drucker would be checking out the place first.
"Her trailer was in very good, clean condition and she wanted to take the dog, but she couldn't afford to buy food for the month," said Officer Drucker.  "I told her not to worry about it that I would get her all the food and stuff that the dog needs if she could take the dog."
Drucker went to a local store and made sure Smokey was set up with everything he'd need.  She got food and treats, flea medications and everything else a dog like Smokey would need.
"I'm an avid animal lover, I have two dogs myself and every dog should have at least a nice home to at least put his head down," said Officer Drucker.
Drucker didn't just leave it at that.  She did go back a few weeks later to check on Smokey, but he was gone.  Smokey's human had found out that he was hanging out at the trailer park, and had come back to get him.
"The woman who was keeping Smokey said that the owner was able to get the house back, to where the house should be and was able to bring Smokey back with him.  There was no concerns of neglect or abuse that she said she could see," said Officer Drucker.
"I feel appreciated, but it's my job.  It's not something that I think I did outside of my normal performances every day.  Newport News Police just want to help.  We don't want to do anything but help out the community."