On October 3, 2014, a Long Island pet owner had to call 911 to get his pregnant dog rescued from underneath a shed.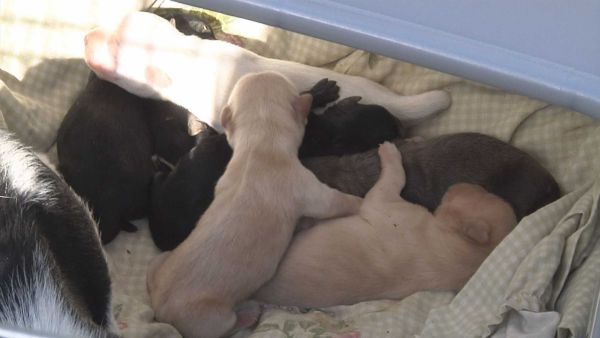 The expecting dog, a terrier and border collie mix, hid under the shed right before going into labor. She gave birth to seven puppies, but soon after birthing the puppies, the newborns were trapped underneath the shed. Realizing her babies wouldn't be able to get out, the momma dog stay put with her little family.
When the dog owner heard the puppies crying and realized he couldn't reach the dogs, he dialed 911 for help. Officers from the Seventh Precinct, Suffolk County SPCA workers, and Brookhaven Town Animal Control officers arrived on the property to retrieve the pets.
An officer found one puppy hidden under leaves near the shed, the rest of the family was trapped beneath the shed's flooring. To reach the family, officers used power tools to break apart the floor. The new mom, six puppies, and an adult Yorkshire terrier were all rescued.
According to Paul Llobell, SPCA detective, all pets seemed to be in good health. They were taken to a veterinarian just as a precaution, and after receiving a clean bill of health, they were returned to their owner.