The snow and sub-zero temperatures most of the nation is experiencing is forcing many business and schools to close down. People seek shelter inside their homes, but many irresponsible owners leave their pets outside and don't believe their animals need protection from the elements.
On Jan. 23, 2014, Pittsburgh Police rescued six dogs that were chained outside a Lincoln-Lemington home. The dogs were two adults and four pit bull puppies wearing heavy chains. Authorities believe the dogs were used for dog fighting.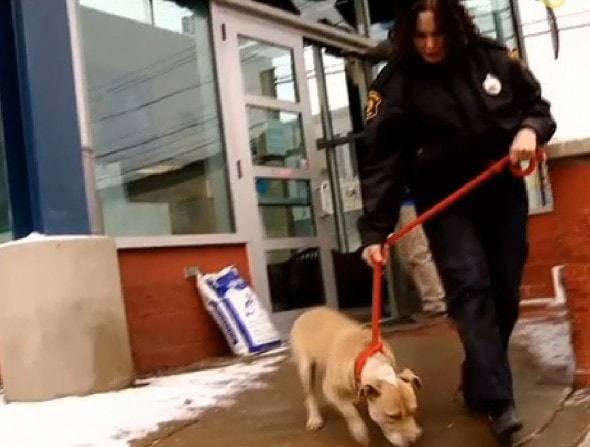 Pittsburgh police with one of the 6 rescued dogs.
"There was no food, no water, [and] insufficient shelter," Animal Friends' Chief Humane Officer Kathy Hecker told KDKA news. "We just checked the temperature and it is 4 degrees, and it is expected to go down."
According to Dan Rossi, executive director of the Animal Rescue League, the dogs were in fair physical condition, but they showed wounds consistent with dog fighting. With no food, water, or shelter, the dogs could have died within hours of being exposed to such cold temperatures.
Hecker says the pet owners will be charged with animal cruelty and neglect, and they will probably be banned from owning pets in the future.
"We will fight to keep these dogs in our custody," said Hecker.
For now the pets will be safely kept at an undisclosed location until a court date and resolution has been set.
Authorities want to remind pet owners that all animals need protection from extreme cold weather. If you can't withstand the elements, your pets won't be able to survive living outside. Please bring your pets inside.