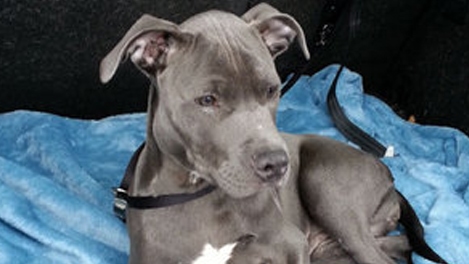 Police in Charlotte, North Carolina are looking for a man who witnesses saw throw a puppy into a pond and then left it to drown.
Matthew Schmidt was making dinner Thursday night when he saw a car pull up next to the pond behind his house. Schmidt typically tries to keep people who aren't supposed to be at the pond away and something about this particular person seemed strange so he went outside to confront him. When he got about 50 feet away Schmidt heard a loud splash. "It scared me," he said. "I shouted, 'What…are you throwing in the pond?' and he didn't respond. He gave me the most blank stare, and then he just left." 
After the man drove off Schmidt heard splashing in the pond and that's when he spotted a puppy struggling to get out. Schmidt coaxed the puppy to him and helped her out of the water. "She was very friendly, very docile," said Schmidt. "But it was like she was saying, 'Please, come help me.'" Schmidt wrapped the puppy in towels and called police.
The puppy was taken to a vet where it was discovered just how bad of shape she was in. An examination revealed she had a fractured leg and fractured pelvis. Those fractures were from a recent incident. The examination further revealed that previous incidents had fractured her skull and injured her spine. "She has quite a few injuries that shows she's had successive incidents of trauma," said Sara Enos, founder of the American Pit Bull Foundation. The puppy's front leg will have to be amputated.
The American Pit Bull Foundation is providing for the puppies' care and has placed her in a foster home. They have also decided to name her Lotus, after the flower that rises up from muddy waters and becomes a beautiful blossom. "We thought it fitting for her," said Enos. Once Lotus is recovered from her injuries she will be ready for adoption.
Schmidt, who has two rescued pit bulls of his own, still can't imagine how someone could treat a puppy so poorly. He describes the suspect as a skinny black male. He estimates the man's height to be between 6'2" and 6'5" and his weight at no more than 170 pounds. The man was wearing a black baseball cap and had dreadlocks at the time. The suspect was driving a light-colored, four-door sedan. It did not have any plates but a paper tag from a dealership with a red circular emblem in the center. "Police are looking for him and making a pretty valiant effort," said Enos.  Anyone with information is asked to contact the Charlotte police.