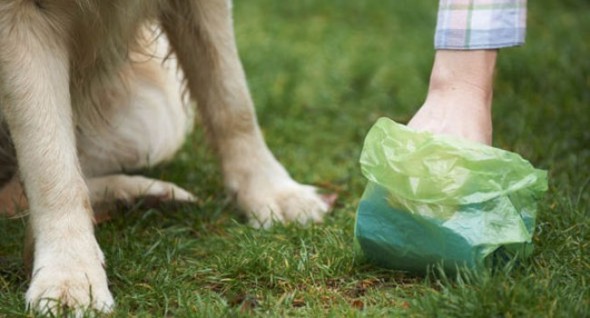 It's the law in most places: pick up after your dog or face fines. Problem is, of course, enforcement is largely non-existent. And really, don't our civil servants have better things to do than police grown-ups who should know better?
Failing to pick up after dogs isn't a pet peeve restricted to the no-pet set. Many dog owners themselves grow irate with fellow dog fans who make life hard for the rest, whose habitual leaving of pet waste they often deem the reason they are banned from parks, beaches and other fun places they and their dogs could be enjoying together.
And so a new movement appears to be afoot, one that has recruited both individuals who'd like to see their neighborhoods given the respect they deserve and even local governments, tired of sending their employees out to do what pet owners take on as a legal obligation when they decide to open their home to a dog: poop shaming.
In a a recent CBS2 story, one anonymous resident of Brooklyn's Greenpoint neighborhood decided to make flyers, calling out someone he or she caught on film leaving dog waste in the street. The images appear to show a young man watching and doing nothing as his dog leaves a gift for his neighbors to enjoy. The caption reads: "Is this you? Please pick up after your dog."
Some folks feel the "punishment" is justified, particularly when according to New York State law, owners can face fines of up to $250 for such an offense.
"It's pretty annoying when people don't clean up after their dog," said Donnie, a resident in the area. "It's kind of disrespectful for the neighborhood."
Meanwhile, out west in Arvada, CO, city officials are the ones taking aim at inconsiderate dog walkers.
It's Arvada Center for the Arts and Humanities is known for sculptures in an open field next to Wadsworth Boulevard. And this past March, the city did its own installation, one it hoped would spark not only conversation, but action.
"Our parks crews were out here … getting ready to prepare, aerate the soil and such," Arvada spokeswoman Maria VanderKolk told NBC affiliate WILX. "They decided a picture is worth a thousand words. Let's put up a little orange stake every time we see a pile of animal waste."
And so over 600 orange marking flags, the sort you might see when cable or water companies are doing work that requires digging, were planted in the field. Each representing a pile of dog poop left behind by a careless owner.
"There is no poop fairy!" some signage proclaimed. It's a message the city hopes area dog walkers receive clearly.
Across the pond, Britons are no less amused by the minefields created when dog owners leave their waste behind.
In the Manchester suburb of Harwood, Bolton, residents took it upon themselves to shame lazy dog walkers, branding them as "too posh to pick up poo."
The signs went viral once posted to Facebook, and elicited all kinds of comments from residents per a piece in The Express.
Elaine Smith wrote: "Love the new signs in the alleyway near Harwood Meadows school. Let's hope that people take notice."
Brad Latham-Holt added: "It is like a minefield along that path."
Joanne Davies said: "I can't believe how lazy some dog owners are. It's not difficult to pick it up and carry it home. Unfortunately this is not just a problem in Bolton. It does seem to be cleaner in areas that have more bins so come on Bolton Council, give us a bit of support.
The council, however, has been phasing out dog waste bins over the past five years, describing the cost of bin maintenance and disposal of the waste as "prohibitive".
"Due to budget restrictions we are ­unable to install new dog waste bins. Instead we encourage the public to put their dog waste into any litter bin and it will be collected along with the rest of the litter," a council spokesperson said.