Potty training your puppy is just about the first thing you'll need to do when you get your new furry friend home. But if you live in an apartment and you don't have a full-sized backyard, potty training your puppy can be challenging.
Read this guide for our top tips on how to successfully potty train your puppy when you live in an apartment.
How Long Does It Take To Potty Train A Puppy In An Apartment?
The time it takes to potty train a puppy in an apartment varies, depending on the age of the puppy and how you go about training him.
Very young puppies have little bowel and bladder control. As a general rule of thumb, a puppy can hold their urine for around one hour more than their age. So, you can expect a four-month-old puppy to be able to wait for about five hours or so. Once the pup reaches six months, he'll be able to hold it for up to seven or eight hours.
That said, tiny breeds have smaller bladders and will have to go more frequently. Also, if your puppy has been running around playing in hot weather, he will drink more, which means he'll need to go more often.
Apartment Potty Training Tips
Now, here are 12 helpful tips that you can use to quickly and successfully potty train your puppy.
1. Crate Training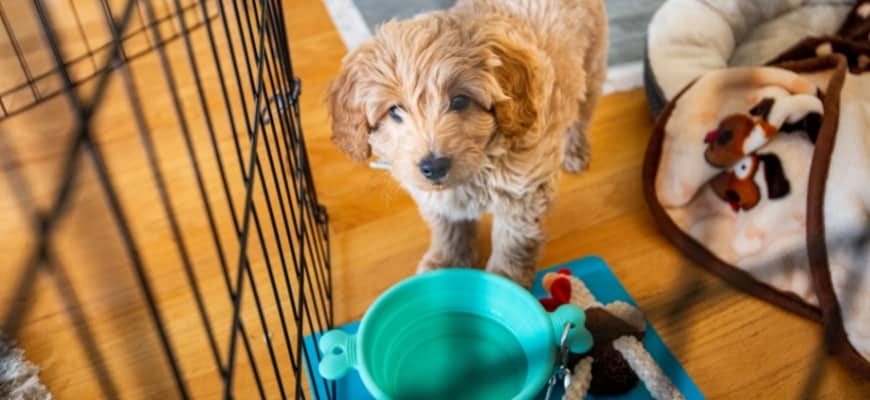 Although some people think confining your puppy to a crate for long periods of time is cruel, that's not the case, provided that you use positive reinforcement training methods.
A crate is your puppy's cozy, den-like space where he can feel secure and safe. In fact, many dogs willingly take refuge in their crate voluntarily, for example, when they want to get away from boisterous children or to settle down to sleep at night.
Crate training your puppy is also a very useful tool when it comes to potty training your pet. You can read a detailed article on how to crate train your puppy at this link. But, suffice it to say, it's much easier to teach your puppy to control and hold his bladder and bowel if you use a crate to confine him.
Generally, if you allow your pet to roam around the apartment unrestricted and unsupervised before he's fully toilet trained, you can expect to discover a few unpleasant little surprises deposited on your carpets!
Confinement Alternatives
You won't want to confine your puppy to his crate for very long periods, especially while he's still undergoing the crate training process. So, it works well to use an exercise pen in conjunction with the crate. Alternatively, you can designate one small room where your puppy can be confined when he's not in his crate. To prevent separation anxiety and other bad behaviors, such as barking and chewing the door, use a baby gate to block the doorway but leave the door open so that your pet doesn't feel isolated.
That's great, as such an arrangement gives your pup somewhere to play and run around without roaming all over the house. However, the main problem with that approach is that your puppy will tend to have accidents in one area of the pen or room, which will undermine your potty training efforts.
2. Crate Divider Panel
Dogs, including puppies, will not willingly soil their sleeping area. So, it stands to reason that your puppy won't relieve himself in his crate.
However, if the crate is too large, your puppy might be tempted to use one end of the crate as a potty area. You can prevent that by fitting the crate with a divider. As the puppy grows, you can move the divider to give your pet more space. And once potty training is complete, you can remove the divider altogether.
3. A Routine Is Crucial
Dogs thrive on a regular routine, and you can use that to make potty training your puppy easier.
Potty time generally coincides with a puppy's feeding time, after a nap, following playtime, and first thing in the morning when the puppy wakes up. So, feed your puppy at regular intervals and make potty breaks at the same time every day. That way, your pup begins to get into the habit of going at particular times.
4. Choose Potty Cues
Dogs generally respond very well to non-verbal and verbal signals, provided that you and everyone in your household use the same cues. So, you need to decide on what cues you're going to teach your puppy and ensure that everyone knows them.
Examples of common potty cues are:
Go potty!
Pee-pee time
Time to go
Business!
Always use the same cues whenever you take the puppy to go potty. Get excited when the pup goes, and reward him with lavish praise and treats.
5. Observe Your Puppy Carefully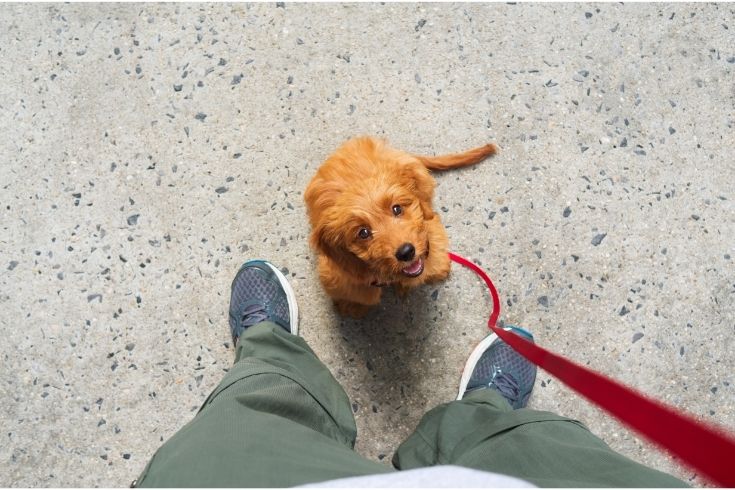 When your puppy is allowed out of his crate for playtime, at mealtimes, and for snuggles with his human family, you must watch him closely for signs that he needs to relieve himself.
Here are some common "potty cues" to watch out for:
Sniffing the floor and walking in circles around a particular spot
Hiding behind furniture, in corners, or sneaking off into another room for privacy
Whining, scratching, or barking at the door
If you spot your puppy exhibiting any of those behaviors, reinforce your potty training by taking your pet to the designated potty stop area right away.
6. Use A Timer
Potty training success depends on anticipating your puppy's toileting needs and catering to them. If you're busy, it's easy to lose track of time and forget to take your puppy out for a potty stop.
A simple solution to that problem is to use some form of timer to remind you when it's time for your pet's next toilet break. You can use your phone alarm, clock, cooking timer, or some other gadget for that purpose.
Work out how long it takes you to get your puppy from your apartment to your allocated bathroom area and set the timer so that you have plenty of time to get to the spot before your puppy needs to go.
7. Bell Training
Did you know that you can train your puppy to ring a bell when he needs to go out?
In fact, a bell can be an essential dog training tool that you can incorporate into the basics of potty training.
Basically, you need to hang a bell on the doorknob or handle. Every time you take your dog out to go potty, ring the bell. Once your puppy can reach the bell himself, gently take your puppy's paw and tap the bell before you take him outside. Eventually, your dog will use the bell when he wants to go outside for a toilet break.
For potty training success, only use the bell when it's time for your dog to go potty. That prevents your dog from ringing the bell every time he fancies a walk or a trip to the dog park!
8. Remove "Accident" Odors
All dogs, including puppies, have a highly developed and sensitive sense of smell, and you can use that to your advantage when potty training.
If you encourage your pet to always relieve himself in the same approved potty spot, the scent of your puppy's urine will "stick." So, whenever your pup sniffs around that area, he knows that's his personal latrine area, and he'll happily do his business there.
However, if your puppy has an accident and relieves himself where he shouldn't, you must take steps immediately to get rid of the smell. If you don't clean the area thoroughly, the scent of urine will linger, and that will encourage your puppy to continue using the spot as a potty place.
I always use an enzymatic cleaner to get rid of pet smells. These odor neutralizer products are usually highly effective, easy to use, and safe for your carpets and your furry companion.
9. Carry Your Furry Companion
If you have an area outside of your apartment where your puppy can go, you'll need to get him there quickly and in ample time for him to relieve himself if your potty training is to be a success.
The easiest way to do that is to pick your puppy up and carry him to the potty destination. Once your puppy is older, and his potty training is progressing well, you can let him get to the potty spot on his own four paws.
10. Accidents Happen
Unfortunately, accidents do happen when potty training both adult dogs and puppies, no matter how diligent you are.
Always potty train dogs with patience, understanding, and positivity. If your puppy gets it wrong, never scold or punish him. That approach will only encourage bad habits and make your puppy stressed and more likely to have even more accidents.
Instead, don't make a big deal out of accidents. Just clean up the mess immediately and then use an enzyme cleaner to get rid of any lingering smell.
11. Umbilical Cord Leash
An umbilical cord leash makes an excellent additional item of potty training equipment and can also provide important bonding time for you and your puppy.
Essentially, the leash is a hands-free leash that you fix around your waist and fasten to your puppy's harness. The leash prevents your puppy from wandering off and potentially having an accident where you can't see him.
Using the leash while you're moving around your home enables you to keep an eye on your puppy for signals that he might need to relieve himself. As soon as you can see that it's business time for your pet, take him outside or direct him to his indoor bathroom area.
Always fix the leash to your puppy's harness, not to his collar!
Dragging your pet around by his collar will not help in your house training process and could make him very resentful of his leash.
12. Indoor Potty Training
If you live in an inner-city apartment with no access to outside space where your puppy could go potty, you'll need a puppy litter box or grass patch that you keep inside your home or outside on a balcony if you have one. These puppy litter boxes are an excellent, convenient solution that saves you from having to dash to the elevator or stairway every time your pup wants to go potty.
These indoor bathroom boxes are basically boxes lined with synthetic grass set on top of a litter tray. You can also get real grass patches delivered on a monthly basis. We prefer to use grass patches for indoor bathroom sessions. The plastic variety can be revoltingly messy and smelly, whereas the grass patches tend to be easier to clean up and can help with the transition to outdoor potty training.
Waste Disposal
If you intend to use a "porch potty" for your puppy's bathroom break, you'll need a convenient place to dispose of the waste. Rather than taking the waste to the dumpster every time you empty your pet's litter tray, buy a small dog waste bin with a deodorizer.
These waste bins feature a locking lid with a charcoal filter that can help to keep odors to a minimum. The bins are also very lightweight and portable, so trips to your apartment complex's garbage disposal facilities are less frequent and less hassle, too.
Apartment Puppy Potty Training – What You'll Need
Now you know how to do about potty training your puppy when you live in an apartment; you'll need to stock up on everything you'll need to succeed!
Here's a list of products you must buy before getting your new puppy home.
Dog Crate
There are several different types of dog crates to choose from:
Wire crates
Soft-sided crates
Furniture crates
Plastic crates
Generally, wire crates are the best choice for potty training and should be considered an essential item of training equipment.
Wire crates are reasonably priced, versatile, easy-to-clean, and can be fitted with a crate divider so that you won't need to buy another crate when your puppy outgrows the current one.
Here are three excellent wire dog crates that we recommend for potty training puppies in an apartment setting.
1. Diggs Revol Dog Crate
Puppy divider panel included
Excellent ventilation
Available in several different sizes
The Revol wire dog crate is made from diamond-shaped mesh, effectively preventing your puppy from trapping his paws in the mesh. The crate has a ceiling hatch for emergency access to your pet, and there's a side door for easy access.
This crate comes with an included divider panel, a carrying handle for easy portability, and wheels. You can fold the crate flat for easy storage, and it has a removable plastic tray for quick and easy cleanup.
Easy to clean
Puppy divider included
Collapsible for easy portability and space-saving storage
Comes with removable plastic tray
Not suitable for very large dogs, so you would have to buy another crate when your puppy outgrows it
2. Petco Brand – Animaze 2-Door Folding Dog Crate
Collapsible for space-saving storage
Available in several sizes
Durable and anti-corrosive material
The Petco Animaze 2-door folding wire dog crate is ideal for crate training puppies.
The durable crate is available in single and double-door options. The doors have slide-bolt latches to keep your puppy securely inside the crate. The wire mesh build ensures excellent ventilation, as well as gives your puppy an excellent view out of the crate.
A plastic tray is included for easy cleaning.
Removable plastic tray
Excellent value for money
Collapsible
Doesn't include a crate divider
3. Ellie-Bo Sloping Wire Crate For Puppies
Designed for puppies
Folds flat for easy storage
Easy to clean
The Ellie-Bo slanted wire dog cage can be used in your apartment and for transporting your puppy in your vehicle.
The crate folds flat when not in use, and a carry handle makes portability a breeze. A removable metal waste tray enables you to tidy up any accidents quickly and easily. You also get a snug, fleecy liner for the crate and a crate training guide.
Doubles as a transport crate
Single latch fastening on the door for security
Folds flat for convenient storage
Metal waste tray
Removable carry handle
Puppy crate divider not included
Umbilical Leash And Harness
You'll need a hands-free leash to potty train your puppy. Here are three products that we love.
1. Tuff Mutt Hands-Free Dog Leash
This umbilical leash is actually designed to be used when you go running with your furry friend. However, the leash works very well for potty training puppies, too.
The dual-handle bungee leash extends to 4 feet in length and has an adjustable waist belt that fits up to a 42-inch waist. Choose from multiple stylish colors.
2. Sparkly Pets Hands-Free Leash
This hands-free leash comes with a handy storage bag and features a convenient rubber handle, enabling you to switch between hands-free to hands-on in just a few seconds.
The leash comes in six colors.
3. Lanney Hands-Free Dog Leash
This stylish hands-free leash comes in a nice selection of bright colors and includes a handy waist carry pouch.
The belt is fully adjustable, and the leash features a double handle.
Puppy Litter Boxes
If you don't have convenient access to outside space, you'll need a puppy litter box for inside potty breaks.
1. Piddle Place Pet Relief System
The Piddle Place Pet Relief System is ideal for puppy training in an apartment setting. The litter box includes a fully enclosed chamber featuring an easy-drain valve, porous turf, and built-in carrying handles for portability.
With the kit, you get a lid and a pack of Concentrated Bio+ Treatment.
2. Petsafe Pet Loo
The Petsafe Pet Loo offers an excellent alternative to puppy pads. The grass is easy to clean, and the sponge beneath is extremely absorbent. The loo comes in small, medium, and large sizes. 
3. Freshpatch Real Grass Pet Loo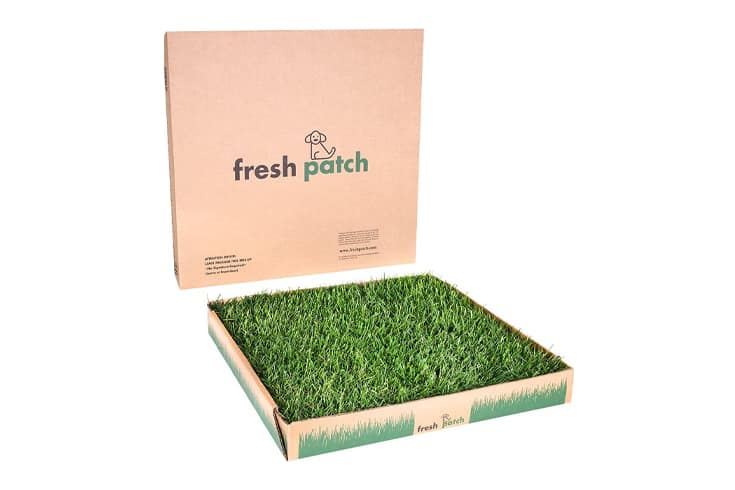 The Freshpatch dog potty features real grass to provide a natural, odor-controlled solution for apartment potty training.
Simply order a fresh unit and dispose of the old one as necessary.
Enzyme Cleaning Products
As mentioned earlier in this guide, enzyme cleaning products are the best choice when it comes to cleaning up indoor accidents. Here are two excellent enzyme-based cleaners that we recommend.
1. Simple Solution Extreme Pet Stain And Odor Remover
Simple Solution Extreme Pet Stain and Odor Remover is specially designed to break down and get rid of the stubborn stains and odors left behind after potty training accidents.
This best-selling formula is a professional strength product that really does work.
2. Resolve Urine Destroyer Spray
This best-selling enzyme-based cleaning product is excellent for pet accidents in the home. The spray neutralizes odors on contact, is safe for use on hard floors, carpets, and fabrics, and helps to prevent puppies from coming back to the scene of the crime!
Timers
If you want a dedicated timer to remind you when it's time for your puppy's next potty break, the following products can provide an excellent solution.
1. Classroom Timers For Teachers
Use one of these timers to help prevent late-night accidents!#
These handy timers feature extra-large print for easy reading, have a retractable stand, and a handy hanging hook, so you can put the timer wherever you need it most. As an extra bonus feature, these timers remember the last time you set, so you don't need to reset your timer every time.
2. Secura 60-Minute Visual Timer
The Secura 60-Minute Visual Timer is an easy-to-use timer that's ideal for apartment puppy potty training.
The timer doesn't tick, so won't distract you if you work from home. Also, you can set the volume too loud or low and the alarm time for 3 or 60 seconds.
Bells
Whether you live in an apartment or a house, training your puppy to use a bell when he needs to go out for a potty break can be invaluable. Here are three bell-alarm systems specifically designed and created with potty training in mind.
1. Luckyiren Puppy Bells
These silver jingle bells are loud and crisp enough to be heard several rooms away but without being unpleasantly noisy.
These high-quality bells measure 1.5 inches in diameter and are set on a super-strong nylon ribbon that's built to withstand scratching, chewing, and tugging. The ribbon length is adjustable from 32.3 inches to 41 inches to accommodate tiny puppies and fully-grown dogs and ensure a good fit on most door heights.
2. BlueTree Dog Doorbells
BlueTree dog doorbells are made using heavy-duty nylon ribbon to resist chewing and pulling. There are three sets of bells attached to an adjustable ribbon that fixes to the door via snap fastenings.
These bells are the loudest available on the market, ringing loud and clear every time. So, there's no chance that you won't hear your furry friend ringing when he needs to go potty!
Final Thoughts
Did you enjoy our guide to potty training a puppy in an apartment? If you found the information and tips we've included helpful, please share the article.
Housetraining a puppy in an apartment is undoubtedly challenging. However, you can do it with patience and perseverance. If you live in a condo that has access to some outdoor space where your pet can relieve himself, you might want to train your dog to ring a bell when he needs to go out. Alternatively, you might prefer using a balcony litter tray or real grass indoor potty.
If you live in an apartment, we'd love to know how you managed your puppy's potty training. Tell us how you did it in the comments section below.