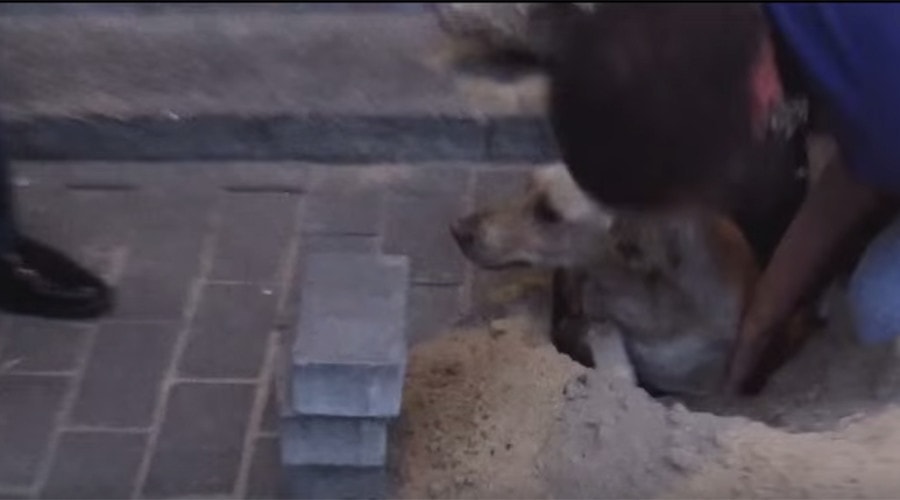 In the Russian city of Voronezh, some workers were repairing some pavement.  They came upon a dog that had been encased in heavy stone blocks and concrete.  They decided not to rescue the helpless dog, and were willing to leave her for dead.  That's when a pair of good Samaritans found her, and rescued her.
It's believed that the dog crawled under some rubble in a collapsed apartment block for shelter and protection.  The rubble then collapsed in such a way as to trap the dog.  When the crew working on the apartment block found her, they decided to just leave her there to die in stead of rescuing her.
That's when a couple of people living near the work zone heard the dog's muffled cries for help.  A married couple with a house just a few feet away, Aleksandra and Vadim, went outside.  They located her, and tried to find help as quick as possible.  The trouble was, no one wanted to help, and they couldn't figure out why.
"We were shocked," said Aleksandra.  "We rushed to ask the neighbors what had happened.  They only told us that the workers had fixed the hole."
Aleksandra thinks the dog was left to die on purpose.
"I don't believe that they just failed to notice the dog," she said.  "It's not a hamster.  The workers probably just didn't want to make an effort and retrieve the animal.  The neighbors also proved to be indifferent.  They understood the poor creature got trapped.  But who wants to waste their time, getting their hands dirty?  No one cared."
They came to the conclusion, after being denied help from the local housing authority and pretty much anyone else they asked for help, that if they didn't act now, no one would have, and more than one innocent life would be lost.
Vadim began dismantling the concrete and rubble covering the hole.  Then, he carefully dug out the dog and got her to safety.  That's when they found out the dog was expecting puppies.
She was taken to a local animal clinic, and is reported to be in good condition.  If these two heroes hadn't acted on their own, more than one life could have been lost.  Way to go you two!