A dog facing euthanization after the loss of a paw was saved by the kind hearted veterinary technician who refused to give up on him.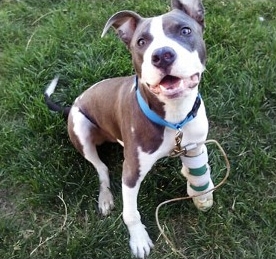 The young male dog was relinquished by its owners, who said they could not afford his veterinary expenses. He was left at the Merced Veterinary Clinic and was scheduled to be put down.
Veterinary technician Xenia Onofre said she could not let that happen. She fell for 'Skip' and took a special interest in his case. "He was young and he was a puppy. I felt like he deserved a chance to be a dog and be a puppy," Onofre told KFSN.
The Merced Hanger Clinic, the same clinic that made the first ever prosthetic dolphin tail for Winter, a bottlenose dolphin, was contacted and said they were confident they could find a solution for Skip.
"Without that paw, it puts stress on the other joints of his body, wearing him out prematurely," Spencer Greene told ABCNews. "We needed to do something so he could walk on that leg."
Greene made a mold of Skip's limb in order to develop a prosthetic that fit precisely. And it did. As soon it was on, Skip was a new dog.
"He just literally took off running when he had it on," Greene said. Now, Skip is "able to run longer and play like other dogs," according to the Hanger Clinic, who generously waived the bill.
"It's a great little project. We did it free of charge as a way to give back. It's just been very gratifying," Greene said. "Things have really changed for him."