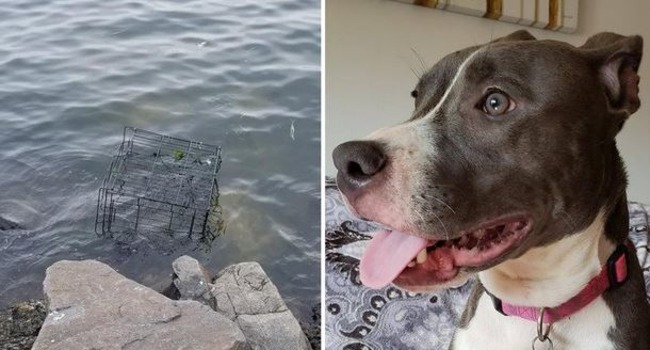 ————————————————————————————————————————————————————————————————————————————–
Not long ago, we told you about River, the dog who last month was saved from certain death after he was left caged in rising water.
At the outset, his rescuer, Jennifer Vaz, planned to adopt him, but after her other dog, Molly, had difficulties adjusting to life with a new little brother, she decided to return him to the Monmouth County SPCA.
"After consulting with my family, the SPCA and my vet for the best interest of Molly's health it would be better if River was fostered by someone else," she wrote in a Facebook post. "As a (dog) mother, dropping River off was the hardest thing that I've ever had to do. Even though I've never been a parent it feels like I'm losing a child."
Vaz discovered River while on a morning walk in the park with Molly; the dog alerted her to something odd in the water. There she found River, a pit bull pup believed to be about 7 months old, trapped inside a wire crate. The rising tide was encroaching.
She contacted animal control and River was rescued with little time to spare.
Vaz was fostering River as the investigation into who had left him to die was underway, and had intent to adopt him.
She dropped him off at the shelter this past weekend, with a bed, toys, food and treats that had been donated. Additionally, more than $1,000 raised in a GoFundMe campaign will be given to his new forever family to assist in his care.
"We're looking for a foster to adopt, for someone who's going to keep him forever," Ross Licitra, the chief and executive director of the Monmouth County SPCA, told NJ.com.
River must be fostered first as he is the subject of an ongoing criminal case. Once that case is closed, the foster family could adopt him officially.
Licitra said he believes River's boisterous, young-male personality (he is not yet neutered) may have been too aggressive for the setting, leading Molly to become withdrawn. The shelter plans the neuter him and conduct a behavior assessment to see what kind of home he might take to best.
In the meantime, the list of names interested in taking River home continues to grow, he said. Other interested adopters can apply with the shelter.
The man accused of dumping River, Aaron D. Davis, 36, of Long Branch, was arrested earlier this month.