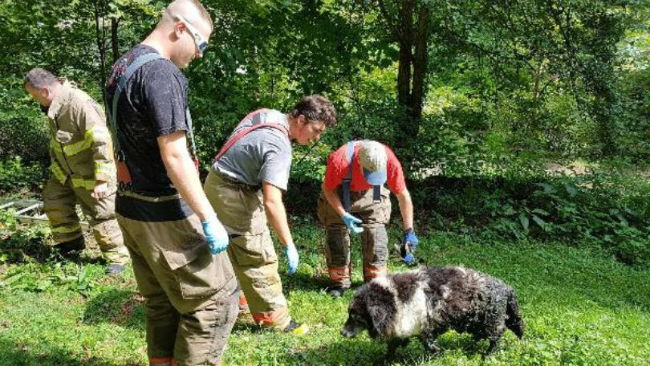 ————————————————————————————————————————————————————————————————————————————–
Think you had a bad day? We assure you, it probably wasn't as bad as this pup's!
Wednesday morning, a West Virginia dog found himself in quite a putrid pickle when he fell into a septic tank!
Luckily, when the dog's distraught family called, the Loudendale Volunteer Fire Department and volunteers at the Davis Creek department worked together to get the dog out.
With a rope and some man- (or perhaps woman-) power, they were able to pull the dog to safety after he'd spent about 20 stinky minutes in the muck.
Happily, no injuries were sustained, WSAZ reported. All he needed was a good bath.
Our guess is he'll need more than one!
And if you don't believe you can't find anything on the Internet, read on! We found this hilarious "septic tank warning poem" on a site called Three Chickens and a Boat. The poem is credited to the site owner's "totally awesome grandma, E. Delahaye."
THE SEPTIC POEM
NOW WE HAVE A SEPTIC TANK,
WE BEG YOUR KIND ATTENTIONS
TO INFLUENCE THE EFFLUENCE,
OUR AIM IS CLOG PREVENTION
SO WHEN YOU USE OUR BIFFY,
PLEASE KEEP THIS LIST IN MIND,
NOT JUST THE BRANDS WE MENTION,
BUT THINGS OF SIMILAR KIND
NO KLEENEX, MINI'S, MAXI
COTTONBALLS OR Q-TIPS
ORANGE PEELS, BANDAIDS
PAPER TOWEL OR HAIRCLIPS
WE REALLY DO APPRECIATE
YOUR BEING EXTRA CAUTIOUS
'CAUSE CLEANING OUT A SEPTIC TANK
IS ABSOLUTELY NAUSEOUS
With luck, the fall-in hazard will be corrected before the family dog (or someone else!) ends up clogging the works!