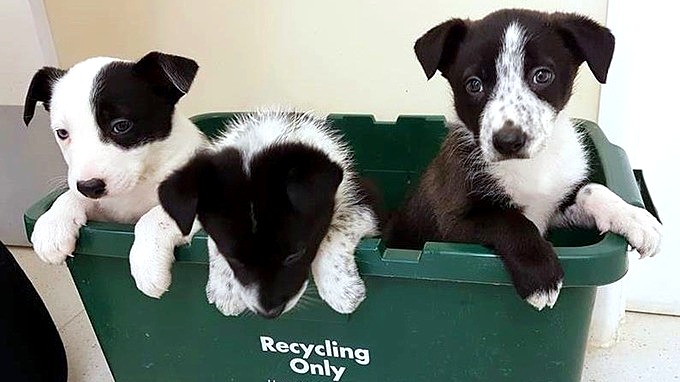 Three puppies that had been dumped in a recycling bin likely would have died in the Bristol woods, but thankfully another dog out on a walk found them and barked until her owner came to investigate.
The dog and her owner have not been named, but the "Lassie-style rescue" took place outside of Bristol, UK.  They were walking through Failand Woods when the dog noticed the bin and ran over to it.  She began barking to alert her owner, who picked up the tote and brought the wee babes to Holly Hedge Animal Sanctuary.
"We don't know how long they had been there before they were found but it was the afternoon," kennel and cattery manager Sarah Schranz told the Bristol Post. "They were in quite an isolated spot where if they had been left for the night they would not have survived.  They would have struggled to survive in there with no warmth and no mother."
"It beggars belief that in this day and age, with a rescue center down the road that someone would leave them there.  We would never turn away a puppy and they didn't even ask, we had no calls," Schranz continued. "We don't know where they came from. My gut feeling is that these are unsold dogs that were left over from a litter. They were going to need vaccinating, worming and flea treatment. They do not have microchips."
The eight-week-old puppies – collies or collie mixes – have been named Tosca, Mabel, and Carlos.  They will live in foster homes until they are fit to be adopted.