Kimber, a five-and-a-half-month-old German Shorthaired Pointer, was hit by a car traveling at least 50 mph on a busy highway.  The person who smashed into her didn't even stop, but left her crying on the road with cracked teeth and two broken legs.  Fortunately, a community of dog lovers rallied around her to get her through emergency double-leg surgery, and now she is recovering.
Haylie Belts, an Airman stationed in Virginia, was home in Washington state for the holidays with her husband Ryan and their emotional support dog, Kimber, when the collision occurred.
"My husband's best friend lives on 16.5 acres and they have a mini Australian Shepard, Luci," Haylie told Life With Dogs.  "Kimber and Luci have are best friends. They have been running around the property for two weeks together while my husband and I have been home from Virginia.  But Kimber and Luci haven't even gotten close to the road. The house is set back a ways from the road, but there is a house being built across the street and they have a dog over there with them. We think Kimber and Luci got curious and went to cross the road.  Cars travel at least 50 mph on this highway. But she was struck by a car and the driver just kept driving. Kimber was laying in the middle of the road on the yellow lines yelping and crying. Luci stayed by her side and would not leave until my husband got there. Luci is very lucky she didn't get hit herself."
The Belts were so concerned about getting Kimber to a vet that calling the police didn't even cross their minds.  And with no witnesses to a hit-and-run, what could be done?  The important thing was getting their beloved puppy help.  She was very badly injured, and the family needed assistance with her care, so they started a GoFundMe page.
"Kimber is suffering from both her front legs being broken," Haylie stated on the fundraiser. "Her right front leg is broke clean through her radius and her ulna. Her left front leg is broken right after her elbow at her growth plate. She is also suffering from two damaged teeth that will have to be removed."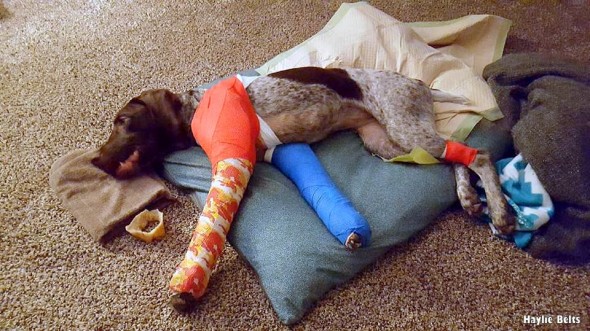 Word about Kimber's ordeal spread, and though it was mostly friends and family helping, donations were also sent in by people from Pawsome Donations, a group that helps raise funds for animals in need, and a fan group called I love my German Shorthaired Pointer!
Surgery was a success, though Kimber is obviously still in a great deal of pain.  She was also very anxious, but now that the shock has worn off, she is doing her best to relax and sleep.  She is currently on five medications to help her while she heals, and little trooper that she is, she is still eating and drinking like a champ.
The Belts were due to return to Virginia tonight, but Kimber hasn't recovered enough to travel yet.  Haylie cannot miss any more work, so even though it breaks her heart to do so, she must leave Ryan and Kimber behind and return to Virginia alone.  Hopefully the pup will heal quickly so the family can be together again.
The fundraiser, meanwhile, did very well.  Nevertheless, they're not out of the woods just yet.
"We found out that in 8-12 weeks she will need another surgery to remove the screws and plate in her right leg and the pins in her left leg," Haylie said.  "So yes, cost is definitely going up from here."
If you would like to help Haylie and Ryan make sure Kimber gets all the medical care she needs, please click here.